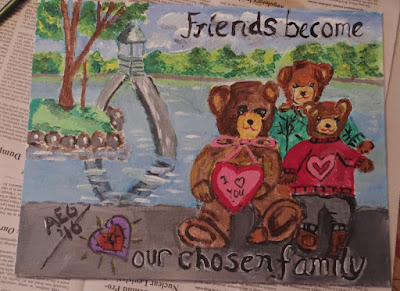 My friend Amy asked me to paint an image that represented the words "Friends become our chosen family." She wanted the words on the painting, as well. I thought about it for some time. What image would represent those words? I didn't have a clue. One day, when Amy was visiting, she looked through one of my watercolor sketchbooks and saw that I had made a painting of two bears at Hoyt Lake in Buffalo's Delaware Park. Amy said that she would like that image to represent her phrase but that she wanted more than two bears in the picture. We agreed that three bears would work well.
I started by drawing images of bears on onion skin paper.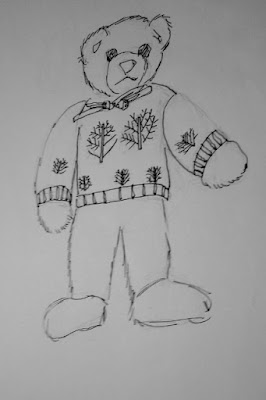 I actually drew five different bears. Then I chose three of the bears and I cut them out.
I arranged the bears in various ways and finally chose this arrangement of the bears as a group of friends.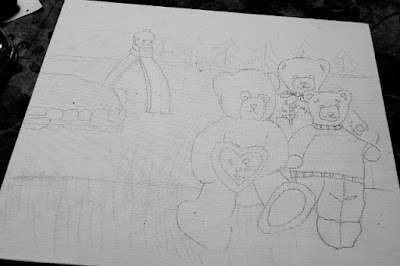 I transferred the image of the bears onto the canvas board by writing over the lines. This caused a faint image of graphite to appear on the canvas board and I reinforced the image with a pencil.
My next step was to start painting the background. This was just an underpainting. I was prepared to make changes. But I set the painting aside because life had gotten overwhelmingly busy. Today, it was too hot to do any gardening so I opted for an inside activity… finishing the painting.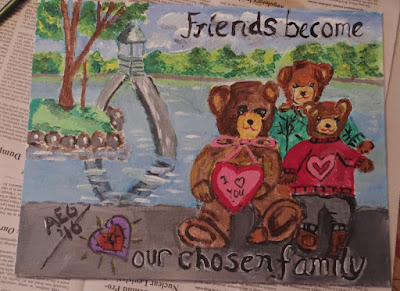 I discovered that the sky and the water were too bright and blue, which made them look artificial. One of the things that I learned from Terry Klaaren at the July 1st plein air painting class at River Lea was that the sky is a combination of blue and white. When you paint the water, add a little green to the blue and white combination.

I finished the painting and added the words. They look like handwriting, not calligraphy, which I think is OK. I signed the painting and pronounced it finished.

So… what creative projects have you recently finished after leaving them to sit for a while?