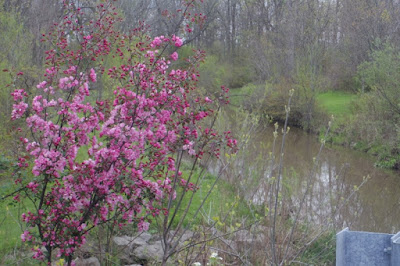 It was sunny. All day. It seemed like a miracle after a week of nonstop flooding. The creeks had overflowed their banks. I had never seen the water move so fast through the creeks. The ditches were so full of water that they looked like creeks. Front yards had suddenly turned into lakes. It seemed as if the rain would never stop.


And then, it stopped.


The sky and the river were blue again.


Today, I decided to photograph my day's adventure, to share my bright, colorful, springtime world with you.


In the morning, I walked to the beauty parlor. It is about three miles from my house. I noticed that the trees were flowering and that the lilacs had started to open. I saw flowers everywhere. The gardens were an explosion of color… yellow, purple, red, green. The flowers and the leaves were delicate and soft.


There was a crew working replacing pipes along the road, which was a good thing because the nonstop rainfall resulted in numerous flooded basements. A flagman was there with a huge stop sign/slow down sign. I asked him what the crew was doing, and he pointed out the large pipes that were being installed. That was pretty exciting because, well, flooded basements are excitement best left unexperienced.


As I walked to the beauty parlor, I took random pictures of flowers, trees, Woods Creek, and other things. Some of the pictures are for my 52-week photography project.


My hairdresser Jacquie styled my hair so I can look human… um… good when I have my two minutes of fame at the dance recital. At the beauty parlor, my hairdresser took my picture. There are people in the background, photo bombing (a potential new career option for me).


A recent addition to the Island
Ship Center. This room has comfortable
furniture, a virtual mailbox, and a
computer for use. There is a fee,
which covers use of all of these services.
My next stop was to the Island Ship Center, to get greeting cards made from a photograph of a painting of a view of the Niagara River from River Lea in Beaver Island State Park. Because I had to wait for about half an hour, I decided to visit some other businesses.


Momma De's mixing bowl.
Next door was Momma De's Mixing Bowl. It is a bakery that has been open for about a month. It started by selling light breakfasts and baked goods. Just this past week, Momma De's started including lunch in its repertoire. You can get an entire meal for nine dollars.
Sweet stuff at Grand Island's
newest bakery
Included in that meal is a wrap in one of three flavors (chicken salad, turkey, or veggie), chips or fresh fruit, a beverage, and a cookie. Yesterday, I went to the dress rehearsal for the Grand Island Dance Center recital. The Zumba ladies are dancing in the recital!!! (What fun!) The rehearsal was long so we brought our own meals. I chose to get a meal from Momma De's, as I wanted to try their lunch special.


Celeste shows off some
of the baked goods offered
at Momma De's, open every
day, except Sunday.
I had a veggie wrap on a spinach wrap. The wrap consisted of mixed greens, cherry tomatoes, and avocado. My beverage of choice was orange juice. I chose the fresh fruit, which consisted of an orange slice and some cantaloupe and watermelon. The cookie that I chose was called "Amazing." The whole meal was delicious! The cookie, which I shared with a friend, lived up to its title.


My next visit was to the Niagara Frontier Publications. It was a busy beehive of activity. So there wasn't much time to chat. After that, I returned to the Island Ship Center, where my greeting cards were produced by Seema Mojowalla, who is the Queen of Awesome. She and her husband Fahim are the co-owners of the Island Ship Center. He is the King of Awesome. They call the Island Ship Center the Spa of Shipping.
What time is it? It's time
to visit the King and Queen
of Awesome at the
Island Ship Center.
I have never visited a business like that. Fahim and Seema know everyone's name. They go out of their way to make each customer feel like their only customer. Their work is excellent because it is done with care. They made my greeting cards look perfect. They have invested their money, their time, and their hearts into making the Island Ship Center a dynamic business that grows with the customers' needs.


After I collected my cards, I went home, relishing the spring weather. I hope that you also had a colorful, enjoyable day.