Note: In May, two local writers came to speak at the Grand Island Memorial Library. Sandra Block, the author of Little Black Lies and The Girl without a Name, was the guest speaker at the annual meeting of the Friends of the Grand Island Memorial Library. Her story is here: link to yesterday's blog post
Later in May, Brian Castner, author of The Long Walk, came to speak to the Grand Island Memorial Library Book Club. Today, I'm sharing some of the things that Brian Castner said during his presentation.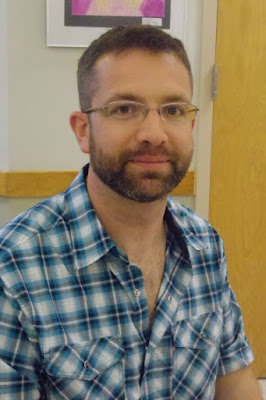 This is Brian Castner. He wrote a memoir titled, The Long Walk. When I first heard the title of the book, I thought that it was about the Appalachian Trail. Well, not quite. It wasn't that sort of book. Actually, it's a war story.

Brian told us his story. He grew up in a Buffalo, New York, suburb. His dream was to become an astronaut. He said that the high school that he attended, Saint Joseph's Collegiate Institute, was very formative for him. He said that he grew up with a strong Catholic faith. "I grew up very Catholic," he said. "My father was going to be a Jesuit." When he complained to his German Catholic grandparent about his knees hurting from kneeling too much, he was told, "When you're in purgatory and you're kneeling on nails for 1,000 years, it will feel worse."
"Social justice has always been very important to me. 'Here I am, Lord. Send me.'"
Brian said that joining the military was his choice of how he wanted to be sent and how he wanted to serve. He joined the Air Force and became an Explosive Ordnance Disposal Officer. That meant that he disarmed bombs. He served three terms in Iraq and he left the Air Force in 2007. He said that his work had meaning to him because it gave him a sense of purpose.

Brian never became an astronaut because his eyesight disqualified him.

Brian came home and he said that he was not the same person that he was before he went to war. He said that his wife did not recognize him as the man that he had been before he went to Iraq. How would he reclaim the old Brian? He said that he felt compelled to write a memoir because of the loss that he suffered, including the death of a close friend. "What is this war that killed my friend? I had to make sense of it."
"There was a lot of survivor's guilt in the first draft," Brian said. He added that many of his friends stayed in the military and went to fight in Afghanistan, where he never served. "I chose to come home, and my buddies went back."
"I had felt a responsibility to remember" (what had happened). Writing gave me space to forget." He said that he did his best writing while running outside. He said that running was part of his writing process. He said that he runs fifteen miles a week.
"I wrote this book to make sense of the world. I get lucidity from writing."
Writing the book was "painful and cathartic," Brian said. "When I came home from the war, I thought that I was fine. I was not."

He said that he was still struggling with the thing that he called the Crazy when he wrote the book. The Crazy was formed by the experience that he had in the
ruined, desolate land and with the constant terror associated with disarming the bombs.
Brian said that he was diagnosed with "anxiety disorder, not otherwise specified." He was not diagnosed with post traumatic stress disorder, a common diagnosis for people returning from intense war situations. He found healing in running and in yoga.
When asked, "How are you now?" he said, "The me talking to you now is not the me who wrote the book. I was afraid that I would go to a book event and I would not be Crazy enough."

Brian said that he was not angry about the horrors that he experienced in Iraq. "I'm not angry. It would come from being a victim." He said that he volunteered to serve in the Air Force. "I did this all to myself."
Still, the memories were painful. They were painful in a different way than kneeling on nails for 1,000 years in Purgatory… but, nevertheless, painful.

Since The Long Walk was published in 2012, Brian has written a second book, titled All the Ways We Kill and Die. He is working on a third book, which is not about war.

Brian is married and has four sons, ranging in age from seven to eighteen. His wife, a former emergency room nurse, now teaches nursing at a local university.