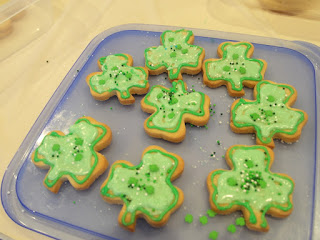 A year ago, I was thinking about corned beef and cabbage and I was wondering what "shut down" meant and about how long it would last. I was thinking that it would last a few weeks and then, it would end. I believed that I was going to greet Easter at church, and life would continue as if it were never interrupted.

Clearly, I didn't have much information or understanding of the COVID-19 pandemic. But then again, I think that all of us were pretty clueless a year ago. Since then, I've learned a whole new vocabulary. Herd immunity, social distancing, quarantine, isolation, face mask (I'm not sure where else you would place the mask, but okay), infection rates, asymptomatic, ventilator, proning, Fauci Ouchie, and so much more.

We have now come full circle. One year. One trip of the earth around the sun. Once again, I'm thinking about corned beef and cabbage. I'm thinking about the daffodils that have started sprouting from the ground. I'm thinking about seed bombs and gardening tools. I'm thinking about life and death and hope and heartbreak, and I am wondering how we heal from all of this.

For me, documenting this experience has been a way to keep going. I've been documenting through my blog and through a visual journal and with my camera. I feel that documenting is so important. It's a way to keep our stories alive for the future. So, in my blog for the Blogging from A to Z challenge next month, I am going to share reflections on my journey in words and pictures, and I am going to interview other people so that I can share their voices and their stories. It will be a small oral history project. My goal is to expand the oral history, to include more on Western New York and, when the U.S.-Canada border is open, to share the oral history of the Niagara River. This is my hope and my dream and I hope my way of doing honor to those that we've lost, as well as the heroes who have kept us going and all of us.
If you have ideas of things that you'd like me to write about in the challenge next month, please feel free to mention them in the comments section below or in social media sites!
I look forward to seeing you during the April A to Z blogging challenge.
#atozchallenge #atozchallenge2021