Note: Today, I went to Buffalo with a group from the Grand Island Historical Society to have a tour of The Buffalo Transportation Pierce Arrow Museum (click here for the museum's website). The museum was founded by Jim and Mary Ann Sandoro, who have spent 45 years collecting memorabilia about the history of transportation in Western New York.
The Pierce Arrow automobile was manufactured in Buffalo from 1901 until 1938. In addition to automobiles, Pierce Arrow also produced various types of trucks, trailers, and bicycles. Pierce Arrow cars were expensive and were considered to be status symbols. The Pierce Arrow was the official White House car from the presidencies of William Howard Taft (1909 to 1913) to Franklin Delano Roosevelt (1933 to 1945). The cars proved to be too expensive during the Great Depression. Rich people were hesitant to spend so much money, and the company went bankrupt.
Bicycles from early in the 20th century.
There are a number of mannequins, wearing clothing typical of people in the early 20th century.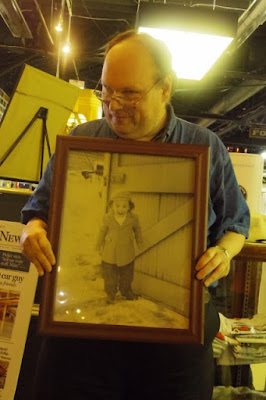 The boy in this picture grew up to become the founder and owner of the Pierce Arrow museum. From an early age, he was fascinated by automobiles. He was especially interested in the Pierce Arrow, the "car of presidents and princes." He told his mother that, some day, he would own a car museum. At the age of 18, he began restoring old cars.
This is a replica of a filling station that was designed by Frank Lloyd Wright. In 1927, Darwin Martin hired Frank Lloyd Wright to design a prototype filling station, which was going to be built at the corner of Michigan and Cherry in Buffalo. These modern filling stations were to be built throughout the United States. They featured loads of copper, deluxe bathrooms, gas tanks in the air, poured concrete, living rooms, and two fireplaces (underneath all of that gasoline). The Buffalo gas station was never built. The only one that was built was in Cloquet, Minnesota. That gas station was built in 1958 and it is still in operation.
This is the Pierce Arrow hood ornament.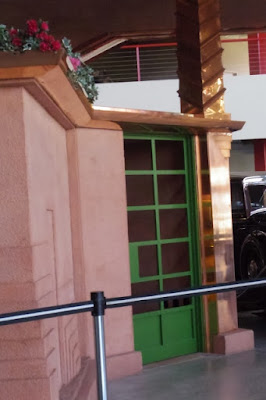 Here is an interesting piece of automotive history: Alice Huyler Ramsey (1886-1983) was the first woman to drive across the United States. When she made her cross-country drive, accompanied by a friend and two sisters-in-law, she was 22 years old. The trip was 3,800 miles. She started in Hell's Gate in Manhattan, New York City, and ended in San Francisco, California. The car was a bright green Maxwell. It was quite the adventure. Most of the road were not paved. In 1960, she published Veil, Tire, and Iron, a book about the journey.
This one-seater is called the "lad's car." It was actually built with boys in mind. The cars were manufactured by the Niagara Motor Company between 1912 and 1914. Despite being called a "toy," it was capable of speeds up to 80 miles per hour.