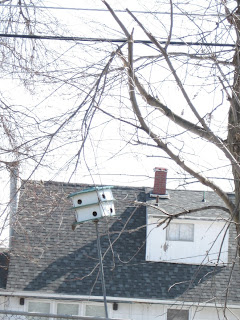 On Tuesday, March 13, I walked down the bike path to Beaver Island State Park. It was the first time that I had been on the bike path since early in January, before the arctic air blew in for an extended stay.
I had been hoping that I would have one more chance to explore my outdoor world before I turned myself in at the federal prison in Danbury, Connecticut, to begin my six-month sentence for crossing the fence at Fort Benning.
The frozen wasteland that I viewed from the window had been saying no, you're not going to explore your outdoor world without risk of frostbite or hypothermia or both.
But, on Tuesday, the temperatures soared to close to 60 degrees.
Joy filled me as I started down the bike path. I walked under the bridges that link Grand Island to Tonawanda. The wind blew, but that didn't bother me. It was warm and I was outside.
I could see the damage that the "October surprise" storm had on the trees. It was apparent where the branches had been torn from the trees by the weight of the heavy snow that had fallen on October 12 and October 13, when the branches were already heavily laden by leaves. I saw the gaping holes where the branches had been. Other branches hung onto the tree trunks but just barely.
People and dogs walked and jogged past me. All seemed joyful that they were able to get outside and that they were able to enjoy the bike path again.