A few weeks ago, I was at the Small Business Saturday event at the Grand Island Farmers Market when I encountered something that looked incredibly good. It looked like enormous truffles. The chocolate kind, not the fungus among us kind. I needed to check into that, to find out more about those lovely round things.

After all, chocolate is a food group. It taste great and it generates a sense of happiness and relaxation. Well, for me, anyway. Chocolate does contain caffeine, but I have this weird reaction to caffeine. As in it makes me want to take a nap, almost immediately.

But, yes, you guessed it. I digressed. So back to the topic at hand, which is that strange round thing. I went to talk to the people at the stand that was marked KC Crafts. They offered all sorts of cool things at their stand, including pretzels dipped in chocolate, coffee coozies, tooth fairy pillows, tooth fairy sets, handmade ornaments, and a variety of other goodies. Oh, and guess what? The strange round things are called hot chocolate bombs!

So… hot chocolate bombs are hollow and are made of different types of chocolate. They are filled with stuff, such as mini marshmallow. I bought one hot chocolate bomb, with the intention of taste testing and reviewing it.

To prepare the hot chocolate bomb, you start off by putting milk in a saucepan, enough to fill your cup. Turn the stove to a bit above medium. While the milk is cooking, get the hot chocolate bomb out of its wrapping and place it in your cup. When the milk is gently bubbling, remove it from the heat, as a hard boil is not desirable when cooking with milk. When I prepared my hot chocolate bomb, I chose to use goat milk because it is naturally lactose free, thus a bit easier on my digestive system.

When you pour the milk into your cup, the magic begins. After a few seconds (yes, it was that fast), the hot chocolate bomb will break open, revealing the mini marshmallows. Your milk will get progressively darker and more chocolatey. The chocolate will not completely melt.
That offers you a variety of textures in your cup, from the smooth hot chocolate to the soft mini marshmallows to the flavorful bits of melted chocolate.
To go with my hot chocolate bomb beverage, I had gluten free crackers with spreadable cranberry-orange cheese. To quote Mr. Food: Mmmm, it's sooooooo good!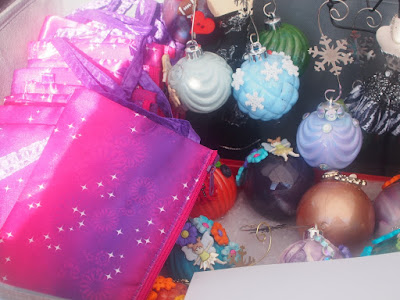 If you are out and about on Grand Island, New York, this Saturday from 10 a.m. to 2 p.m., make sure to visit the Thompson farm, 2487 Long Road, for hot chocolate bombs, jams, jellies, fresh produce, crafts, kettle corn, and so much more.