Over the past few years, I have taken pictures of Woods Creek. I've taken pictures of it full of ice and snow. I've taken pictures of it when the ice had started to melt. Some of these picture depict the waters overflowing their banks.


winter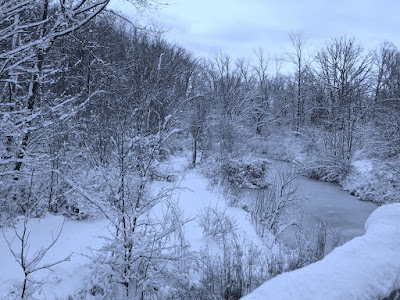 On Christmas Day 2017, this was Woods Creek, looking very much like a Christmas card.
The same creek, seen in sepia tones.
This is Woods Creek along the town's linear bike path, completely covered with snow and ice.
After a few days of above-normal temperatures, the ice melted and the creek flooded its banks.
Another view of ice in Woods Creek, no longer filled with snow.
This is another view of Woods Creek, as seen on the linear bike path.

summer

A tree and its reflection in Woods Creek

Another view of a tree and its reflection