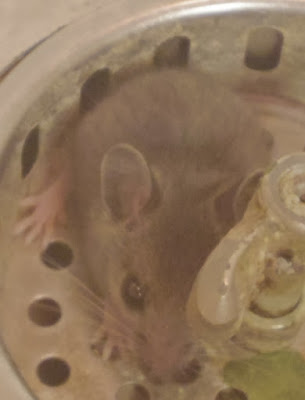 The Labor Day weekend is considered to be the unofficial end of summer. Fortunately, summer continues because the autumnal equinox is actually on Thursday, September 22nd. The Labor Day weekend is the unofficial end of summer because, immediately after it's over, school starts, bringing vacation time for students and teachers to a screeching halt.

Here are a bunch of images from my Labor Day weekend. I start with the mouse. There is nothing like getting ready for breakfast and finding a mouse sitting in the kitchen sink. In fact, the mouse found its way to the kitchen sink three days in a row. The mouse was removed from the kitchen sink three times. It tried to escape on its own by jumping. It failed to jump straight in the air and out of the sink.
The mouse, apparently, was incapable of doing the standing broad jump. To do a standing broad jump, you stand on a line, throw your arms forward, and jump as high as you can. The hope is that your arms will propel you forward. It is a very difficult athletic feat. It used to be an Olympic event, but it was eliminated in 1912. Apparently, most people cannot do a standing broad jump. To do a successful jump, most people need to have a running start. There are still plenty of Olympic jumping events that involve a running start.

The mouse was removed from the house and was placed in a wooded area, where it can learn to enjoy nature and eat whatever mice eat in the wild, which, apparently, does not include cat food (when the mouse was not in the sink, it was taste testing Zoe's cat food).
This is the luscious blood orange that I enjoyed. And no, I did not offer the mouse a taste test. The blood orange is lovely and colorful. The color is very vibrant, and this one is mostly likely a moro, which is one of several types of blood oranges. A blood orange has thick skin that has a reddish tint. The flavor is more intense than other oranges and the flesh of the orange can range in color from ruby to vivid crimson.
The juice of blood oranges would be red. The flavor would be fairly tart. Some of the foods and beverages that call for inclusion of blood orange juice would include Italian soda, vinaigrette-style salad dressings, sorbet, and gelato.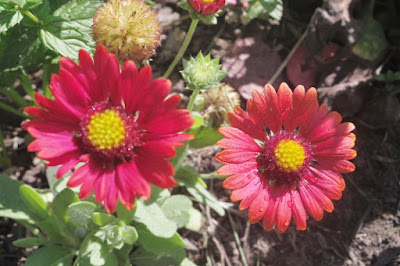 On Saturday, I worked on a garden. It was a warm and sunny day and it had recently rained. The soil was soft, and the weeds came out readily.
Lovely lavender.
Back yard gem.
Closer view of the back yard gem.
On Sunday, I went to June and Roger's Labor Day picnic, held outside of their house, near the river. It is a big annual event and a good deal of fun. Here is Santiago Masferrer, the owner of El Buen Amigo, a store in Buffalo that sells fair traded clothing, jewelry, and other crafty sorts of items. The goods come from all over the world.
Small sweaters for small people.
Magical little car theme.
A jazz band performs.
Boats along the river.
River adventure.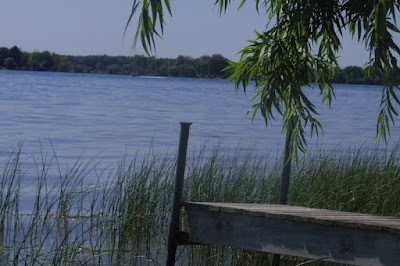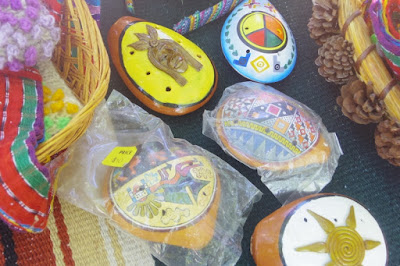 More colorful stuff, courtesy of El Buen Amigo.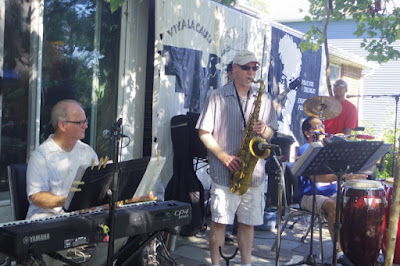 This is Janna Willoughby-Lohr. She is an artist and a musician. She is a member of the musical group "Blood Thirsty Vegans." The members of the group are storytellers in rhyme and rhythm. Janna is a vocalist and she plays the trumpet, but not at the same time.
What is a party without food?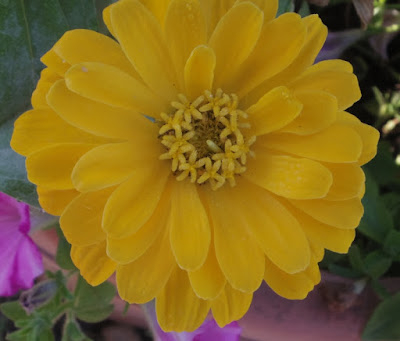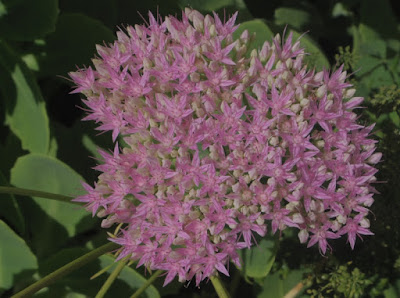 On Monday, I visited the Grand Island Farmers Market, which was held from 11 a.m. to 3 p.m., instead of the usual 4 p.m. to 7 p.m. The farmers market is relatively new and it is already a social event.
Although these resemble cookies, don't try biting them. You may develop dental problems. These are actually stones that were collected by Steve and Trish Birtz, who spend a lot of time looking for rocks and minerals when they aren't collecting delicious produce from their farm.
Mmmm, tomatoes.
You can also find sweet treats at the farmers market.
Hot, spicy peppers for the brave folks.
Mmmm, cherry tomatoes.
There is so much to see and do at the Grand Island farmers market.
The chickens are not shy. They gladly greet humans.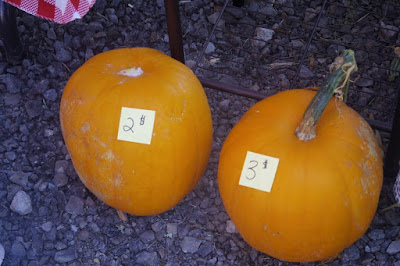 Although the air is still warm and summer-y, autumn is coming, which means pumpkin bread, apple crisp, and more taste treats.
Trish Birtz focuses on the task at hand.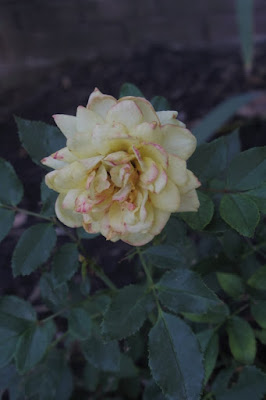 After visiting the farmers market, I went to my friend's apartment and weeded and pruned in her small garden. This is her one and only rose.

Labor Day drifted away, and, on Tuesday, September 6th, I woke up early to go take pictures of the first day of school at Huth Road Elementary School.

Of course, summer didn't disappear as rapidly as Labor Day. I heard from a teacher friend that the temperature in her classroom was 89 degrees. Fortunately, the first day of school came to an end, albeit a hot and melty one.