Note: I am participating in a seven-day blogging challenge,
called the Write Tribe Festival of Words. Write Tribe is an online community of
bloggers that "urges you to write bravely." The day three prompt is to feature a map and write about a place, either real or virtual. I've chosen to feature photographs and to describe a place, instead. This is Buffalo, New York. I hope that you enjoy this virtual tour.(link to writetribe.com)
The Japanese Gardens behind the Buffalo
Museum. The Japanese Gardens were a gift
to Buffalo from its sister city, Kanazawa,
Japan. The design was conceived in 1970 and
work was completed in 1974.
Buffalo is known for having heartbreak sports teams that never quite win the championship, chicken wings, and lots of snow. When I tell people that I am from Buffalo, they ask me how I can find it, with all of that snow that apparently falls year-round. Also, it must be hard on the sinuses. Excuse me while I brush the snow off of me and try to find some relief for my (clogged) sinuses. Anyway, haha, it's August, and it never snows in August, except in one of those cute snow cones that you can buy in just about every tourist trap town but Buffalo because no one (yet) thinks of Buffalo as a tourist trap town.
Colorful house, typical of the Allentown neighborhood
This is the Buffalo History Museum. It is
one of the few buildings that remain from the
1901 Pan American Exposition, which
was a celebration of electricity. Every-
thing was lit up in color, and it was so
beautiful at night that people cried.
Unfortunately, the Pan American
Exposition is mostly remembered
for the assassination of President
McKinley and for the rushed
inauguration of President Theodore
Roosevelt.
Maybe these pictures will change your mind and you'll want to visit Buffalo before you head off to Niagara Falls, which is a wonder of the world. By the way, Niagara Falls looks spectacular during the winter, when it is covered by snow and ice and there's a double rainbow making bright colors in all of that snow and ice. There is a city of Niagara Falls in the United States and another city of Niagara Falls in Canada.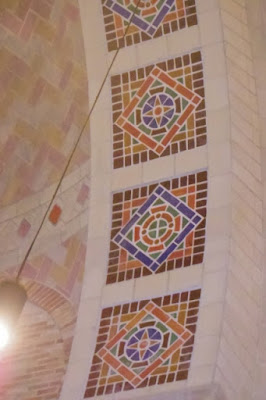 Inside the Montante
Cultural Center at
Canisius College. This
building was formerly
the Saint Vincent
de Paul
Church. It was
dedicated in 1924
and was restored in 2000.
It is an example
of Byzantine-Lombardic
architecture and is an
historic Buffalo landmark.
In the United States, you can cross a small bridge and get to a place called "Goat Island," where you can get an extremely close view of Niagara Falls. If you are brave and don't mind getting soaking wet, you can do the Cave of the Winds tour. It takes you directly below the falls. You climb a lot of stairs and water gushes in your face, making you temporarily blind, which isn't fun but is worthy of story telling for years to come. The Canadian city has some wonderful features, including a butterfly conservatory and a floral clock. I need to go there. That could be the theme for a future blog post.



Seen in the Allentown section of Buffalo, during the Buffalo Garden Walk.

Johnson Park, Buffalo

City Hall in Buffalo was built by Dietel, Wade, and Jones and was completed in 1931. It is a 32-story art deco building and is one of the tallest buildings in western New York. It was added to the National Register of Historic Places in 1999.