Today's blogging prompt has to do with dreams. It's about how we dream big when we are children. Our imaginations knew no bounds when we were thinking about what we wanted to be when we grew up. And the question was: if we could dream that big, what would like to become now?


Here are some of the things that I heard from kids whom I used to babysit. They have all since grown up.


I want to be a professional baseball player!


I want to be a mechanic and fix cars!


I want to be a veterinarian!


The baseball player wanna-be became a musician and a music teacher. The mechanic wanna-be became an engineer. And the veterinarian wanna-be became a physician. They are happy with the careers that they have chosen.


So, what were some of my earliest career dreams? Here are a few. I wanted to be an astronaut, an astronomer, a cartoonist, and an actress. I never became any of those things. Instead, I became a journalist. I enjoy the work, but I never did find that Real Job with career advancement that I was hoping for.


So… what if I were to start over again and dream big, as I did when I was a kid? Well, for sure, some of my dreams have changed. I actually enjoy staying on the earth so I guess that astronaut isn't the best option. Plus, I have issues with vertigo and motion sickness, which could be potentially career ending for an astronaut. I guess that getting into some sort of spaceship would be like the most extreme type of roller coaster possible.


I have new dreams now. I have discovered a love for gardening and landscape design and insects. I've discovered that I love being outside, walking and exploring.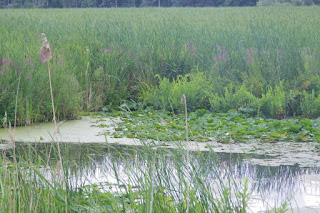 By participating in long-distance walks in a number of different places, I have found that I love travel, especially slow travel. Close to the ground travel. I like taking photographs and drawing and painting. So…. what would I choose for a career? Maybe I would want to be a travel writer. Or maybe I would want to be an outdoor educator. Or an entomologist. Or a botanical illustrator. Or maybe even a novelist.


I can see all of those as being dreams for me, the grown up version of me who still wants to dream big. What are your dreams? What would you like to do if you were to dream big?