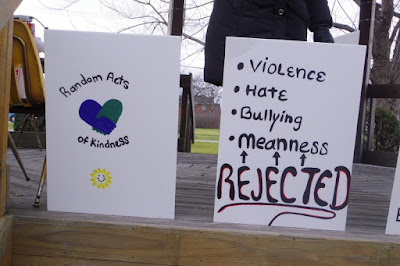 Today is Human Rights Day. It is a commemoration of the day in 1948, when the General Assembly of the United States adopted the International Declaration of Human Rights. Human Rights Day has been observed throughout the world since 1950.
Human Rights Day is a good day to remember that all human beings are entitled to being treated with respect and dignity. The United Nations is calling today "Stand up for someone's rights today."
Here is the message from the United Nations:

"Disrespect for basic human rights continues to be wide-spread in all parts of the globe. Extremist movements subject people to horrific violence. Messages of intolerance and hatred prey on our fears. Humane values are under attack.
We must reaffirm our common humanity. Wherever we are, we can make a real difference. In the street, in school, at work, in public transport; in the voting booth, on social media.
The time for this is now. 'We the peoples' can take a stand for rights. And together, we can take a stand for more humanity.
It starts with each of us. Step forward and defend the rights of a refugee or migrant, a person with disabilities, an LGBT person, a woman, a child, indigenous peoples, a minority group, or anyone else at risk of discrimination or violence."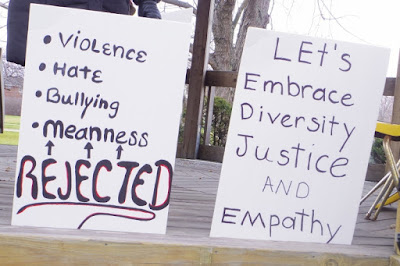 Today, at Grand Island Town Hall, there was an "inclusion peace rally" to celebrate human rights day. We started our rally at the gazebo, located at Town Commons. It was a cold day for a rally. The turnout was a small and enthusiastic group.
This is Bekki D'Orazio-Orton, one of the organizers of the rally. She said that one of the goals of the rally was to "show that Grand Island is a welcoming community because 'unity' is part of community."
The Rev. Cathy Rieley-Goddard, who is co-pastor of Riverside-Salem United Church of Christ/Disciples of Christ Environmental Chapel, shared a reading/prayer.
Several people spoke at the rally, including Dave Reilly and Nicole Gerber. They talked about trapping on public lands, an issue that has been rather contentious in Grand Island. They asked us to remember the animals, too.
We were visited by a very friendly local police officer.
Kristen Dennis Obarka and Bekki both work for People, Inc., an agency that supports individuals with developmental disabilities and low-income seniors. Kristen talked about diversity in Grand Island and said that the goal of the rally was to let people know that this is a community "where everyone is welcome." Kristin, who also teaches at the college level, said that being open to diversity makes people's lives and careers better.
Town Supervisor Nate McMurray said, "Diversity produces new types of creative thought." He said that the United States is an extremely successful country because of its diverse culture that has given us such things as jazz, basketball, baseball, Apple, Google, and much more.

Stand up for empathy, caring, peace, and diversity. Stand up for random acts of kindness and for a stop to bullying, violence, and meanness, said Bekki, who said that she and Kristen plan on organizing more events, such as a cultural fair, when it is warmer.

Stand up for someone's rights today and every day.