When you share images of humans, you are making their stories come alive. You make them feel round and real enough to touch and to hug. In doing my 366-day photography project, it has been my goal to share my world with everyone. Today, I am dedicating this blog post to someone who inspires with his photographic eye. His name is Abdulhai Darya, and he uses gift for photography to capture the humans and the sights and the essence of Kabul, Afghanistan. At just 20 years old, Abdulhai has seen more than many of us do in an entire lifetime.

Abdulhai works with the Afghan Peace Volunteers, a group of youth that is dedicated to bringing peace to that war-torn nation. The organization has a website, titled "Our Journey to Smile." Here is the link to that website. Here is another website: Afghan Youth Peace Volunteers. The Afghan Youth Peace Volunteers are an amazing group of young people. They range in age from pre-teen to twenty-something. Their energy to create peace is very inspiring.
Abdulhai uses black and white photography here to good effect. He captures the sole person walking down the street and the buildings.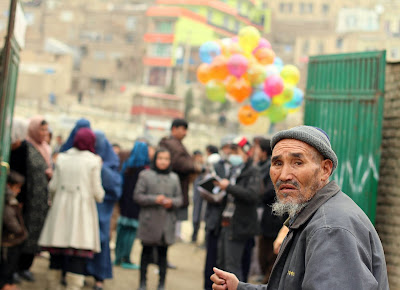 Here, Abdulhai gives us a feeling for people, color, and life in Kabul. To me, this is a statement of hope, both for Afghanistan and for all humans.
These two boys must be up in a mountain. The background almost looks lunar. It is quite amazing! I love this photograph! It would make a great painting.
This face says it all. The radiant smile and the joy on this child's face say that, yes, there is hope for humans, as long as there are people who care as much as the Afghan Youth Peace Volunteers.

Thank you, Abdulhai, for your eye and for the images that you have been sharing. You are an inspiration!