I hibernated. The storm struck and I stayed inside, watching the snowfall from the safety of indoor space. Today is the second day of "winter storm Stella" (uh oh, is there a "winter storm "Stanley" on the way?) All of the schools were closed, and many activities were canceled. This has been a widespread storm and, in some areas, accumulation has been more than three feet (.9 meters). Here, we've had about 24 inches (61 centimeters) of snow.
It's been very cold, too, and windy. Today, the winds have died down and the snow has stopped falling. It's just cold now so I went outside and took pictures. The snow is soft and fluffy, and, when I went to take pictures, I sank down in it. I sank pretty far because I am "fun sized" (I think that sounds better than just "short").
Fortunately, I'm OK because I have plenty of food, a warm house, and electricity. I have art projects to do, as well as a book to read. I can watch the news on TV and look at the bridges and roads that are buried under snow. I hope that anyone who has no warm home to go to has found safe and warm shelter.
And today is… the Ides of March!
If we were to bring Julius Caesar and the Roman Senate forward in time, to here and now, the Roman Senate would be able to murder Caesar by stabbing him with an… icicle! It's a weapon that just melts away but I don't think that the Senators were concerned about hiding their tracks because they did the deed in the most brazen of ways.
But I digress.
Here are some of my pictures of the storm that started on Pi Day (3.14) and seems to be ending on the Ides of March.
A few days ago, the neighbors' storage shed looked like this. Some snow had fallen, enough to coat the ground and the roof.
Today, the neighbors' storage shed looked like this.
Another storage shed.
Nope, no leaves on the tree anytime soon.
Somewhere, beneath all of that white stuff, there is shrubbery.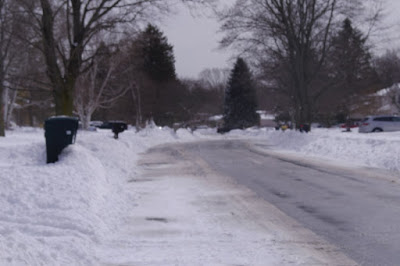 Magically disappearing mailboxes
Not exactly the "hot seat."
This is a porch.
Doesn't that look like a Christmas card? Merry Christmas!