Snow White and her dwarves were found at Huth Road Elementary School.
The six (of seven) dwarves look happy. In fact, Grumpy is wearing a very uncharacteristic smile.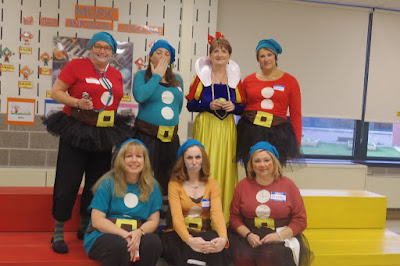 All of a sudden, Grumpy reverted to character, and Sleepy was ready for a nap.
Halloween is the day that fairy tale characters come to life.
Notice that Snow White is holding an apple. She has been advised not to consume it.
Here is a famous painting that came to life at Huth Road Elementary School.
Dramatic characters appear at the Grand Island Dance Center.
A trio of characters who appear on Halloween.
Back at Huth Road Elementary School, a parent introduces the element of horror.
Happy Halloween, and be wary of the things that go bump in the night. Listen carefully for howling when you least expect it.