The book that's really a cake!
Five hundred years ago, an eyewitness said that he saw Martin Luther nailing 500 theses onto the door of All Saints Church in Wittenberg, Germany. This is the story that has been repeated over and over again. Apparently, it never happened.


Martin Luther's theses, written in Latin, were published in Germany and, later, were translated into German, where they were widely reprinted. Martin Luther, who was a priest, a monk, a composer, and the chair of the theology department at the University of Wittenberg, wrote the theses to express his displeasure at the way the church was headed in the 1500s. One of his chief complaints had to do with a practice that was common at that time: the selling of indulgences. People were told that they could buy their way out of Purgatory. Johann Tetzel, Dominican friar and commissioner of indulgences, had been sent to Germany to sell the indulgences. It seems as if the selling of indulgences was a revenue raiser. The money was earmarked toward the rebuilding of Saint Peters Basilica in Rome. Apparently, that building project had run into some budgetary issues.


"Martin Luther" speaks of his life and of the challenges that he faced after he was excommunicated from the church. "Those were difficult times. I stood my ground."
Martin Luther was a busy man. He was busy with lectures on the Bible and homilies. Between 1510 and 1546, he preached 7,000 homilies, which averaged four per week.


Apparently, breaking away from the Roman Catholic Church and founding a new church was not his intention. He was given no choice, as he was excommunicated in 1519 and was declared an outlaw in 1519.


Martin Luther believed that he was trying to reform the church, not splitting from it. Nevertheless, the split occurred. It was the second great split in the history of the church. The first was when the Eastern Orthodox and the Roman Catholics had a schism in 1054. The split between the Roman Catholic Church resulted in violence, such as the Thirty Years War, fought mainly in Germany, between German Lutherans and Catholics, between 1618 and 1648. Even after the war ended, the conflict continued.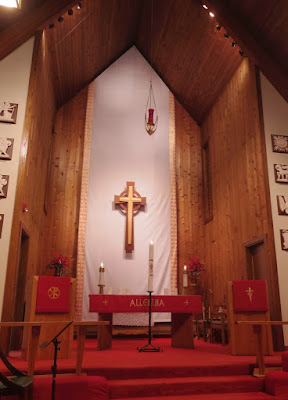 Saint Timothy Lutheran
Church, Grand Island, NY
On Sunday evening, at Saint Timothy Lutheran Church in Grand Island, the 500th year anniversary of the Reformation was celebrated by Saint Timothy's Pastor Kris Bjerke-Ulliman and Saint Stephen Roman Catholic Church's pastor, Father Paul Nogaro.


Pastor Bjerke-Ulliman read these words: As the commemoration in 2017 brings joy and gratitude to expression, so must it allow room for both Lutherans and Catholics to experience the pain over failures and trespasses, guilt and sin in the persons and events that are being remembered. "In the sixteenth century, Catholics and Lutherans frequently not only misunderstood but also exaggerated and caricatured their opponents in order to make them look ridiculous. They repeatedly violated the eighth commandment, which prohibits bearing false witness against one's neighbor."


Father Paul Nogaro read: Lutherans and Catholics often focused on what separated them from each other, rather than looking for what united them. They accepted that the gospel was mixed with the political and economic interests of those in power. Their failures resulted in the deaths of hundreds of thousands of people. Families were torn apart, people imprisoned and tortured, wars fought, and religion and faith misused. Human beings suffered and the credibility of the gospel was undermined with consequences that still impact us today. We deeply regret the evil things that Catholics and Lutherans have mutually done to each other.


Unity and cake. Father Paul Nogaro
and Pastor Kris Bjerke-Ulliman pray
together and enjoy delicious
desserts and coffee together.
In the 21st century, the conflict was brought to an end.
In March 2017, a conference was held on Martin Luther in Rome. Pope Francis said:
I am particularly happy to know that this commemoration has offered scholars from various institutions an occasion to study those events together.
Serious research into the figure of Luther and his critique of the Church of his time and the papacy certainly contributes to overcoming the atmosphere of mutual distrust and rivalry that for all too long marked relations between Catholics and Protestants.
An attentive and rigorous study, free of prejudice and polemics, enables the churches, now in dialogue, to discern and receive all that was positive and legitimate in the Reformation, while distancing themselves from errors, extremes and failures, and acknowledging the sins that led to the division.
A document was produced at the conference, titled "From Conflict to Communion."
Five centuries later, the violence and anger that led to war are gone, replaced by hopes for unity.