Gleam and Glimmer is a stained glass studio in North Tonawanda, New York. It is located on Webster Street, near the Riviera Theater, which is known as the "Showcase of the Tonawandas." The Riviera Theater was opened as "Twin Cities Rivera" on December 30th, 1926. It is the home of a large organ, called the Mighty Wurlitzer and it is one of two large old movie palaces with mighty pipe organs in Western New York. The other old movie palace is Shea's Buffalo in downtown Buffalo. Also located on Webster Street is the Partners in Art Complex. It is an art school, frame shop, art studio, and art supply store that was founded in 1994 by two artists: Joan Horn and Glenna Sternin.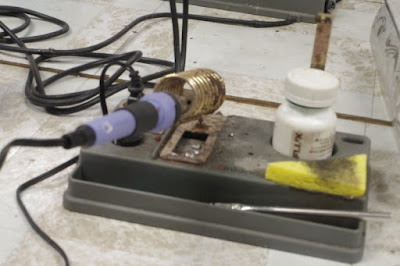 On Saturday, January 21st, I joined about twelve persons from LIFT (Ladies in Faith Together), a women's group at Saint Martin in the Fields Church in Grand Island, New York. We went to Gleam and Glimmer for a beginning class in stained glass. The tools were set up for us. As you can see above, they include soldering flux (a liquid that facilitates soldering the pieces of a stained glass project together), a soldering iron, a sponge, and a brush.
Here are the pre-cut pieces of glass, the solder, and a pair of scissors. We had our choice between pink and red. I chose the pink because I liked the color and I also liked the pattern on the glass. The pink glass is fairly opaque, while the red glass is more translucent.
Here is a sample of work that is done at Gleam & Glimmer Stained Glass Studio. A large number of custom glass work is done here. This is one of the larger pieces that we could look at while we were making our own pieces.
This dragonfly is a companion piece to the butterfly above.
From our seat, we could also see this lovely car.
The technique that we were using to make our stained glass creation is called "copper foiling." Here, you can see that we wrapped each piece of glass in a copper foil.
Once all of the pieces of glass are wrapped in copper foil, we use a piece of plastic (wood can also be used) to burnish the copper foil. That means that we get rid of all of the kinks and bumps that were left after we wrapped the glass.
All of the pieces are foiled and burnished,and I put them together so that they form the shape of a heart.
We place strong push pins around our project so that it stays in place while we are soldering it.
I have soldered one side of the heart!
The project is almost finished, except for one detail!
Voila! A lovely hook is added to the heart so that it an be hung in a window or anywhere else.
This is my lovely heart. It was fun to make, and I'm looking forward to doing more stained glass projects. One thing that I found out is that I can use one of my paintings as a model for a stained glass project. I think that it would be quite fun to translate a painting into stained glass, and I am looking forward to doing exactly that.

Below are some of the stained glass pieces that were made at Gleam & Glimmer.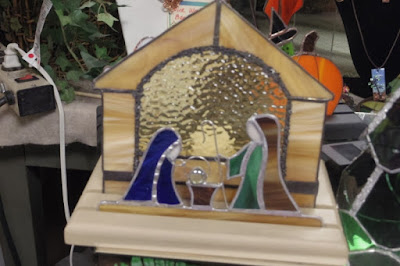 Stained glass Nativity scene.
Very angelic in glass.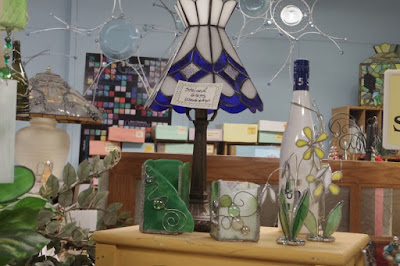 lamps and so much more.
These are class samples. If you went to Gleam & Glitter, you could be making one of these lovely items, for a gift or to decorate your own home.
Beautiful.
Here is another stained glass lamp.
This is Shadow. He is a resident cat. He is very sociable and he enjoyed visiting with us while we were working on our projects.

If you are in Western New York and you are looking for something fun and creative to do, check out the Gleam & Glimmer Stained Glass Studio at 34 Webster Street in North Tonawanda.