Last Wednesday, I paid my first visit to the Viking Diner. It is a new restaurant on Grand Island, having opened in February. Unfortunately, by mid-March, everything shut down, and most of us had to wait for months before we could enjoy such new treasures as the Viking Diner.

The Viking Diner occupies the space that was formerly occupied by McMahon's Family Restaurant. Back in the more distant past, a place called the Clown House occupied that spot. It had a very distinctive appearance and people who visited the Clown House apparently never forgot those visits. In fact, each restaurant that occupied that space on Grand Island Boulevard had a distinctive appearance, and the Viking Diner is no exception. It is full of handpainted images of that location through the years, which tells a story to remind long term residents of the past that they loved and to give a visual history to those who did not experience the earlier incarnations of the restaurant.
Mary and Amy are ready for
chicken pot pie!

On the day that I visited, with two others (Amy and Mary), the special dish being offered was chicken pot pie. It turned out that September 23rd was the National Great American Pot Pie Day. Who knew? We sat at a booth, in true diner style, and we all happily ordered chicken pot pie.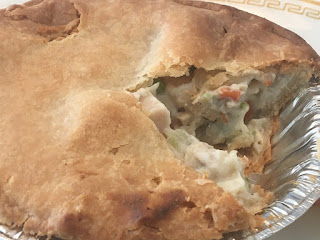 the pot pie is full of food, and
the crust is flaky & tasty.
So, Amy, Mary, and I celebrated the National Great American Pot Pie Day in style,

with our individual chicken pot pies. We also had salads.
The salad was full of field greens and a nice selection of vegetables. The pot pie was full of large chunks of chicken, as well as carrots and peas. It was very filling, and I took more than half of my pot pie home.
I had enough leftover pot pie for two more meals.
We finished the meal with sweet treats.
Our friendly server is
more than happy to
give us as much whipped
cream as we could
hope to eat
Visiting the Viking Diner was a fun experience. The ambience was cheerful and colorful, the service was friendly, and the food was delicious. The restaurant itself, located at 1849 Grand Island Boulevard, is open every day except for Mondays.