Yesterday, I went to the fall festival at Kelly's Country Store. It is an annual event to celebrate the harvest.
There is produce available for sale,
including grapes, apples, and squashes. There are pumpkins of all sizes, from small "pie pumpkins" to big but not monster sized pumpkins.
Personally, I prefer the smaller pumpkins because they are considered to be the best for cooking and baking.
Pumpkins come in several colors, from bright orange to white. There were gourds, which are used mostly for decorating.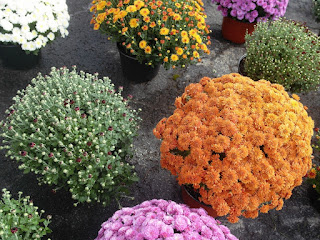 And there were mums in a wide range of colors.


In addition to the food, there were activities for kids, which included horseback rides, facepainting,
and some games so that kids could try to win prizes.
Jaws: the cute version

Goats were on display but people were advised not to try to pet them because, apparently, they have a fondness for biting.


A singer-songwiter named Carly Beth offered a bit of live music in a tent, where people ate food that they had purchased at the food trucks that were parked at the event. Her website is: https://www.carlybeth.com/


Members of the Grand Island Historical Society were on hand to offer tours of the one-room schoolhouse that is located on the grounds of Kelly's Country Store.
Quite some time ago, this schoolhouse was an actual functioning school in Grand Island. The schoolhouse has interesting mementos in it and is a slice of life as it could have been in the late nineteenth century. It was fun to visit this schoolhouse. Plus anyone who wanted to could ring the schoolhouse bell, to summon people to school. Yep, I rang it, and it was fun!!!