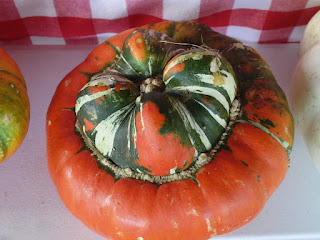 Today, I'm starting on a new Ultimate Blogging Challenge. This blogging challenge is held four times a year: January, April, July, and October.
The goal is for bloggers to post daily for the challenge months.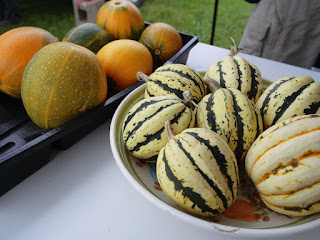 Today's post is about the month's theme, which is change. Change of seasons and retirement are two of the changes that I will talk about this month, among others.
But today, it's about the change of seasons, an ending, and a beginning. This afternoon, I went to the last of the outdoor market events of the season, held by Grand Island Farms, Inc.
It was a chilly and damp day. The sky was overcast. It felt like autumn. It felt like the end of summertime activities.


The time for the outdoor markets is now past. There are other events planned, including indoor markets,
Christmas tree sales,
and the annual farm dinner (a fundraiser for the farmers' group), scheduled for October 13th.


Farmer Tom, one of the founders of Grand Island Farms, Inc., raises chickens at his Grand Island farm. He also grows corn and other produce. His wife Wendy, along with other members of the family make all sorts of baked goods, jellies, and jams.


"Come to the dinner," said Farmer Tom. "You can sample Tom's terrific pasture-raised young chickens. They will be served at the dinner."