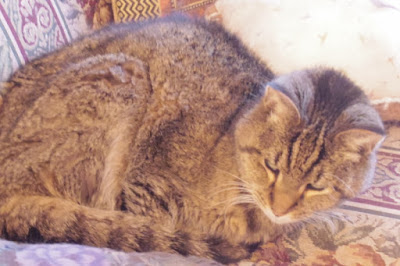 Just a few days before Thanksgiving seems like a good time to share readers' comments. I am very grateful for everyone who reads my blog, and I love your comments, stories, and suggestions. Thank you so much. Here are some of the comments that you have shared with me.
Thanksgiving food, part two: terrific and tasty:
Molly:
These are great ideas! I am a huge fan of Pumpkin Soup and always looking for new recipes, so I may try one of these.
Me, too, Molly. I have some pumpkins that are currently decorating the porch. I'm going to bake those and turn them into soup. The seeds can be toasted and eaten, as well. I haven't chosen my recipe yet, but am definitely looking forward to the experience of warm pumpkin soup, now that the weather is turning colder.
Cerebrations.biz:
Sweet potatoes (never that white stuff) with dates, raisins, and honey…

Cranberries are ok if you are having Turkey. (I'm having roast beef.)

So, I'll make broccoli, with cranberries and peppers.

Sounds delicious, especially those sweet potatoes with dates, raisins, and honey. I love sweet potatoes and yams.

Christine:
creamed onions and scalloped oysters are my favorite side dishes.

Those dishes sound delicious, Christine. I would love to use pearl onions for the creamed onions. They are nice and mild and would make a delightful treat.

Alana:
Dare I say….green bean casserole? No, just kidding. Homemade cranberry sauce, and my husband's delicious stuffing. But, speaking of green bean casserole, there was a three year span where I craved that green bean casserole, canned crispy onions, cream of mushroom soup and al. Then I got it out of my system. It's not on the menu anymore.

Haha, I used to love that green bean casserole. OK, mostly, I loved the crunchy stuff on top. That was before I started reading food labels. Sometimes, being educated about food takes the fun out of eating. It does, however, lead to more creativity in the kitchen. How do you make fun stuff with nontoxic food? But, yes, cranberry sauce and stuffing. Quite yummy.
Thanksgiving dinner, part one: the bizarre and the inedible: I hope that you were amused by my description of really awful food selections that people have been subjected to. I got one comment about bad food at Thanksgiving.

Alana:
For all the fond memories I have of my Aunt and Uncle in Brooklyn where my Dad and I ate Thanksgiving dinner during my teen aged years, one not-so-fond memory is the yams with marshmallows I endured. And, oh yes, the bitter roasted chestnuts. The rest of the meal, though, was delicious.
What a combination of excessive sweetness (yams with marshmallows) and unpleasant bitterness (bitter roasted chestnuts)! Yuck! I'm glad that the rest of the meal was delicious!
What do you want to be when you grow up?
Alana:
I wanted to be "just like Lois Lane" when I was a girl. If not that, a writer. I became neither. In fact, what I did become was part of a profession that I did not know anything about growing up. Surprise, surprise, surprise!
And now, you are a writer, Alana! You maintain a great blog! Hey readers, check out Alana's blog. It's called "Ramblin with AM." In my links section (to the right), there is a link to it.
Jean:
I always wanted to be a teacher from the time I was old enough to realize I had to grow up to be something. I was a teacher for 38 years, and am now retired. I was fortunate enough to spend my career as my first and only choice.
There is nothing better than doing work that you truly love. Teaching was more than just a job for you. People who love their careers, as you did, identify strongly with them. Recently, I interviewed a teacher, who told me, "Being a teacher is just who I am… the kids make every day like an adventure."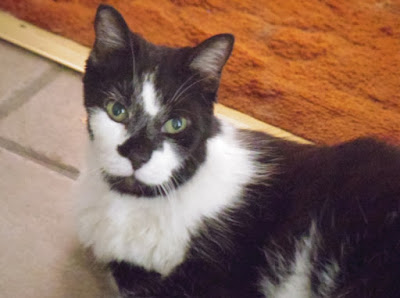 Waiting at the Rainbow Bridge: What wonderful, heartfelt comments people posted both here and on Facebook. You expressed love for precious animals and sadness for animals that were lost. Here are your comments:
Caroline:
I am sorry for your losses. I really love that poem you posted. It makes me think about when my mom passed away and I had inherited her dog, and then when he passed away. So hard!
I am glad that the poem spoke to your heart, just as it spoke to mine. I am so sorry that you lost your mom and your mom's dog. Hugs.
Alana:
I am sorry for your losses. My best friend from childhood passed away after a long battle with cancer. One of her two cats had cancer. For a while it was in remission and that cat would cuddle with my friend when she felt so cold from her chemo treatments. But alas, the cat died, and about two years later, my friend did, too. It's a lovely poem but sometimes…I just don't know. I suppose until that day arrives for me.
What a wonderful, special cat to warm up your friend when she was freezing because of her cancer treatments. This is such a beautiful, sad story. Hugs.
Candy:
It's so hard losing a pet. I'm sorry for your losses.
Thank you so much, Candy.
Jane:
It's not easy losing our fur babies. The one I have left has always been "mine". A ginger girl that I've had for 12.5 years. I miss those that I've lost a great deal. Sorry for the losses you've endured as well.
Thank you so much, Jane. All of the fur babies who have gone are missed. The love truly never dies.
Vivian: T
hat was really beautiful Alice. So heartfelt and precious. Thx for sharing this.
Thank you, Viv. I know how much you love the cats in our lives. Hugs.
Susan: My Tattoo kitty died in January. This was helpful.
I am so sorry for your loss, Susan, and I am glad that I could provide some help and, I hope, consolation. Hugs.
Meryl: Letting go of them when all hope is lost. We always wish we could do more for them. Their absence is heartbreaking, but we hold them in our hearts and minds as much as human beings.
This is so true. When the precious pet dies, it feels as if that empty spot in the heart will never be filled again. But you are right; they are still there in your heart, even though they are no longer occupying a space in the house. It's also so difficult to know when it is time to let go. You never want to believe that all hope has fled. Yet, there are times when the kindest thing to do is to let go. It becomes an act of love, even though it is so painful.
Lizette:

So sorry for your loss. Very touching blog post.
Thank you very much, Lizette.
Mary:

Thanks for this, Alice. Our cat, Gwynneth (the gray one), was diagnosed with lymphoma this summer. We took her off all treatment at the beginning of August because they made her miserable and were not helping. We thought every day that she would die
the next. She has made some comeback, though. Although still very thin, she has her good days and bad. She still loves to sit in our laps and be petted. We don't know what's in store, but we appreciate every day with her.
Mary, your Gwynneth is a treasure. You are a gift to her, as she is to you. One day at a time with a sick cat. You made hard choices that were best for the cat, and I am happy that you can still enjoy your precious Gwynneth.
Alyson:

Such a sad yet uplifting story, one that I can easily relate to.
Thank you so much, Alyson.
And now, a request: I am still looking for book recommendations. What are some of your favorite books? I am looking to put together a Readers' Choice book list before Christmas.
Happy Thanksgiving!