Today, the Christmas season came to an end. It was a season full of bright color, laughter, and music. It was a time to get together with family and to sing with friends. The snow was bright and glittery and fluffy. For some of my friends, the Christmas season brought loss and sadness. I hope that the Christmas season brought them love and support, in the midst of loss.


Below are some of the bright colors of this Christmas season.


Welcome to Grand Island Town Hall.

Grand Island Town Hall is decorated for the season. These bulbs are hung near the ceiling of the first floor. Notice how one of these bulbs acts as a mirror for everything going on beneath it.
In the office of the assistant to the town supervisor.
Second floor of town hall.
This is a bakery and cafe in Grand Island. You can enjoy breakfast or lunch here. Also available for sale are cookies, cupcakes, and other baked goods.
This is a wreath befitting a bakery.
Not only can you eat delicious foods at Momma De's, you can also take classes, which are offered monthly. In December, the class offered was about decorating cookie trees. I decorated two cookie trees, and here is one of them.
Here are some of the cookies that were decorated before they were assembled into cookie trees.
A few days before Christmas, I went out to lunch with my Zumba class. We went to Apple Granny's in Lewiston. Santa Claus was there to watch us to make sure that we were nice and not naughty.
Santa and friends are dressed for the cold and the snow.
Restaurant activity, through a mirror.
The world, in shades of red.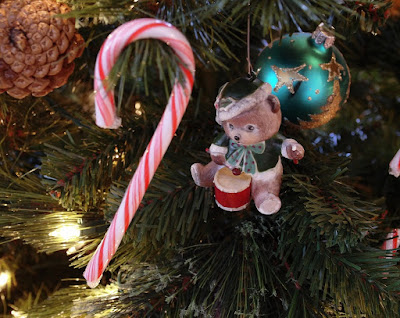 On Christmas Eve, I went to my sister Vivian's house, for family time. The house was decorated in a whimsical style for the season.
There was a great stack of gifts, for everyone there.
Here is a church in the Christmas village.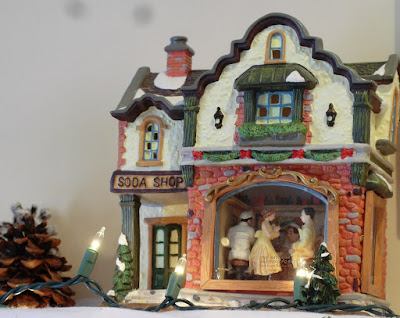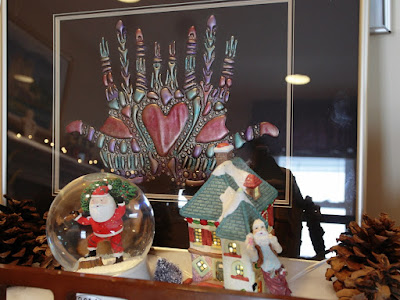 Abstract art and Santa in a bubble.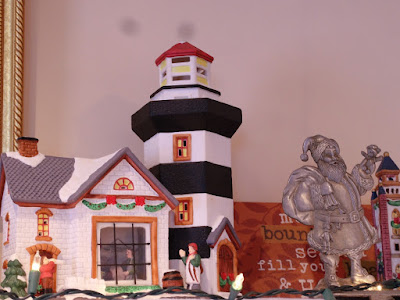 Santa, who is very gray and very large, is ready to bring all sorts of goodies to everyone. Sometimes, we wonder if Santa Claus is real. Young Virginia O'Hanlon asked that question of the editor of the New York Sun in 1897. She was eight years old.
The editor told her, "Yes, Virginia, there is a Santa Claus. He exists as certainly as love and generosity and devotion exist, and you know that they abound and give to your life its highest beauty and joy. Alas! how dreary would be the world if there were no Santa Claus! It would be as dreary as if there were no Virginias. There would be no childlike faith then, no poetry, no romance to make tolerable this existence…You tear apart the baby's rattle and see what makes the noise inside, but there is a veil covering the unseen world which not the strongest man, nor even the united strength of all the strongest men that ever lived could tear apart. Only faith, poetry, love, romance, can push aside that curtain and view and picture the supernal beauty and glory beyond. Is it all real? Ah, Virginia, in all this world there is nothing else real and abiding.
No Santa Claus! Thank God! He lives and lives forever. A thousand years from now, Virginia, nay 10 times 10,000 years from now, he will continue to make glad the heart of childhood."
Virginia grew up and married and became Virginia O'Hanlon Douglas. After her daughter was born, her husband left her. Virginia went to college and earned a bachelor's degree. She became a teacher, and she earned a master's degree and, in 1930, she earned a doctorate from Fordham University. She credited the letter that she received at the age of eight with influencing the direction in which her life took. In 1969, two years before she passed away, she was photographed with Santa Claus.
Gingerbread houses, decorated by my great nieces, Claire and Addie.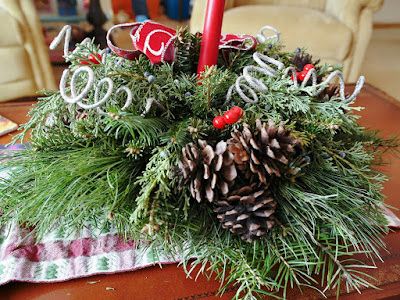 Winter greenery.
Christmas at church was colorful and bright and full of winter greenery.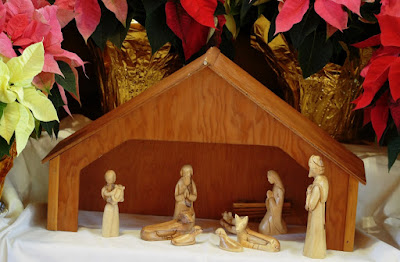 This Nativity scene came from the Holy Land.
I went to the Buffalo Launch Club for the inauguration of Town Councilwoman Jennifer Baney, Town Councilman Pete Marston, Jr., Town Highway Superintendent Richard Crawford, Jr., and Town Justice Peter Frentzel.