In 1901, Buffalo had a strong economy. Because of the proximity of hydroelectric power from Niagara Falls, Buffalo was the first city in the United States to have electrical power on a large scale. The city's nickname was "City of Light." Later, after many economic downturns and setbacks, Buffalo became known as the "City of No Illusions."


Around the time of the Pan American Exposition, in 1901, great architects came to design buildings in Buffalo. Among the architects who designed buildings in Buffalo were Frank Lloyd Wright, H.H. Richardson, Louise Blanchard Bethune, Louis Sullivan, Edward Green, D. H. Burnham, and George Cary.


Brian Higgins represents New York's 26th district in the U.S. House of Representatives. He came to a party at Celia Spacone's house in Grand Island last week. He said that his family was part of building a city. "I come from a family of bricklayers. They did union jobs on weekdays, and side jobs on weekends. My job was to bring the bricks to the bricklayers. My dad wanted me to go to school, and this was part of my getting a college education. I asked my dad what the other part was. 'You weren't a very good bricklayer,' he said.'"


Celia Spacone, who is running for Grand Island Town Council, said, "My father was an immigrant and he was a bricklayer. He was happy to see his children be successful. He was doing all of this for his children and for our future."



from left: Town Council member Beverly Kinney, Town
Council candidate Celia Spacone, and Town
Supervisor Nathan McMurray
Grand Island Town Supervisor Nathan McMurray also talked about sacrifices that parents made so that their children could have a better life. He said that his mother raised six boys and one girl as a single parent. "My dad died at age 39 of cancer, caused by exposure to asbestos at his workplace."


Sacrifice and success are major themes in Buffalo's growth and its decline and its subsequent renaissance. Buffalo went from a small town to a village because of the Erie Canal turning it into a shipping destination. The Erie Canal was opened in 1825.



Ellicott Square Building
Brian Higgins said that the architects were attracted to Buffalo, as it had a vibrant economy and was a place where the architects' visions could be turned into reality. It was a progressive place, where the first woman architect, Louise Blanchard Bethune, designed a great hotel, the Hotel Lafayette.



The Hotel Lafayette later symbolized Buffalo. After its heyday, it was permitted to decay and, for a while, it was described as a "fleabag hotel." The hotel symbolized Buffalo's strength and, with its economic downturn, its lack of confidence and and attitude that Brian Higgins described as "defeatist."
The Liberty Building has two
statues of liberty on top















The hotel has since been restored and is called "Hotel @ the Lafayette." In Buffalo, more than the hotel has been restored. "We are experiencing a great renaissance in downtown Buffalo. Downtown Buffalo is one of the fastest growing neighborhoods. We're just getting warmed up. Nothing is finished."
Another view of Hotel @ the Lafayette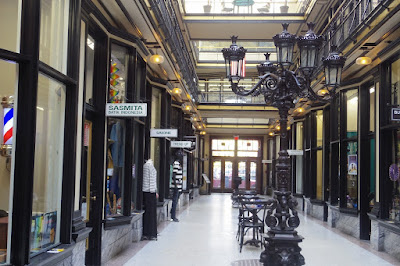 The Market Arcade
Outside view of the Market Arcade
I am taking part in The Write Tribe Problogger October 2017 Blogging Challenge (Hyperlink this to: http://writetribe.com).
#writebravely #writetribeproblogger