Synopsis of yesterday's post: Jim Pace and Brian Siebel of the Union Volunteers Fife and Drum Corps were the featured presenters at the Grand Island Historical Society's November meeting. They shared the story of field musicians during the Civil War through story and music. They talked about their instruments (fife and drum) and they talked about the ways that music was used during the war for communications, entertainment, ceremonies, and much more. They said that music inspired soldiers when the battle was going badly. Musical signals were used to let soldiers know what they were supposed to do on the battlefield (forward march, commence firing, cease fire, march in retreat, etc.).
Today, I am sharing a few stories of the field musicians. The average age of the field musician was 24; however, there were some who were far younger.
Clarence McKenzie: At the age of twelve, Clarence left his Brooklyn home to become a drummer boy with Brooklyn's Thirteenth Regiment. He never saw battle. During a training exercise in camp, he was struck by a wayward bullet that was accidentally fired into his tent. Young Clarence died at the age of thirteen. He was called "Brooklyn's Boy Martyr." He was buried in the soldiers' lot at Green-Wood Cemetery in Brooklyn. Soldiers Lot was donated by the cemetery for Civil War veterans. There is a very large monument, with the words, "Our Drummer Boy," inscribed on it. There is also a ten-foot tall, realistic looking boy in uniform with a drum as part of the monument.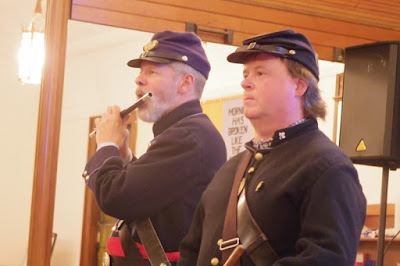 Robert Hendershot: This young man was called the "Drummer Boy of the Rappahannock." He was said to have been quite heroic during the Battle of Fredericksburg (Virginia) in December of 1862. As a very young boy, in 1861 (his year of birth is unknown and may have been any year from 1847 to 1861), he drilled with the Jackson County Rifles in Michigan. He followed them to Fort Wayne, and the group became Company C of the Ninth Michigan Infantry. In March 1862, he enlisted as a musician. In July, he and his regiment were captured at Murfreesboro (Kentucky) Courthouse by Confederate Calvary under the command of Brigadier General Nathan Bedford Forrest. Robert was part of a prisoner exchange. The military sent him home because he had epilepsy and suffered from frequent seizures.

Later, Hendershot, who used the alias "Robert Henderson," joined the Eighth Michigan Infantry and, somehow, despite having many seizures, managed to become a war hero. He was discharged from the army, due to epilepsy, on December 27th, 1862.

Robert Hendershot played the drums for many reunions of the Grand Army of the Republic, and he died in 1925.
Johnny Clem: At the age of nine, he tried to join the 3rd Ohio Infantry. He had run away from home after his mother died in a train accident. He wanted to be a union drummer boy, but the 3rd Ohio Infantry turned him away for being too young and too small. They said, "You are so small that you could live in your drum." He wouldn't take no for an answer and he attempted, without success, to join the 22nd Michigan. Despite being refused, this kid followed them around, and he was adopted as a mascot and as a drummer boy. Two years later, when he was 11, he was permitted to enlist. He was a drummer boy in the battle of Chickamauga, and he fought, as well, using a musket that had been trimmed down to suit his size. He was captured in October of 1863 by General Joseph Wheeler. The Confederates were quite amused by their very youthful prisoner and commented, "Haha, they are sending kids" and "what sore straits the Yankees are driven, when they have to send their babies out to fight us." He was sent home as part of a prisoner exchange.

Later, Johnny served as a messenger for General Sherman.

His captor, General Wheeler, after the Civil War was over, re-joined the U.S. Army (he was a West Point graduate) and served as a general in both the Spanish-American war and the Philippine-American war.

After the war was over, Johnny remained in the military. He retired as a brigadier general in 1915. He was the last Civil War veteran to serve in the army. He married twice, had three daughters, and died in 1937. He is buried at Arlington National Cemetery.