Note: Today is the start of a new challenge with the Ultimate Blog Challenge. The challenge is to post every day for the month of July. This month, my blog will be about celebrating summer, interviewing inspiring people, and sharing art projects and other creative endavors. Today, I start with a fun creative endeavor.



Recently, I went to Momma De's Mixing Bowl for a craft class. This time, I got to paint all of the parts of a bird feeder. The instructor and her assistant actually put all of the pieces together after we were finished with the painting. In the next few days, I will obtain birdseed, and then I will hang up the bird feeder. I am looking forward to many birdie visitors.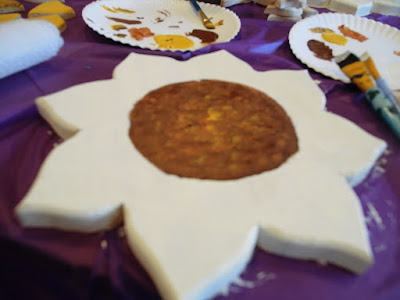 I started by painting a center for the flower and by painting the petals white.
Here it is at a different angle.
The next step was to paint a bird. I painted a black bird with a golden beak. A blue bird was another option.
Now, I start to paint the petals a light shade of yellow, which shows up more because the petals were initially painted white.
Here is another view of all of the petals, shortly before the bird feeder was pieced together.
This is the completed flower, now three-dimensional.
The flower is ready for chains, so it can be hung from a hook on the porch.
It's complete! All that's missing is the bird seed!
Here I am with my new bird feeder!

for conversation: anything goes… bird feeders… birds… creative projects…