Autumn has come.The wind blows the cool airs in and the leaves turn yellow and red and brown. The wind pulls the apples from the tree and blows down the leaves. It is time to collect the apples and to make applesauce and apple crisp and apple pie and other delicious foods.
Already, some of the trees are naked. The strong winds of the last few weeks have blown the old leaves from the trees. The trees are going dormant, as is the land.
But, in the mean time, it is autumn, the season of the harvest. Here are some of the images that I have captured in the last few weeks:
The apples are ripe now. They attract all sorts of insects, including this pretty butterfly.
opening its wings…
wings wide open, the butterfly shows off its magnificence…
the trees, clothed in bright colors…
welcome home, it's time to come in and have a glass of apple cider with family and friends…
… the flies and hornets enjoy the autumn feast as well…
it makes them sluggish, drunk on the apple juice…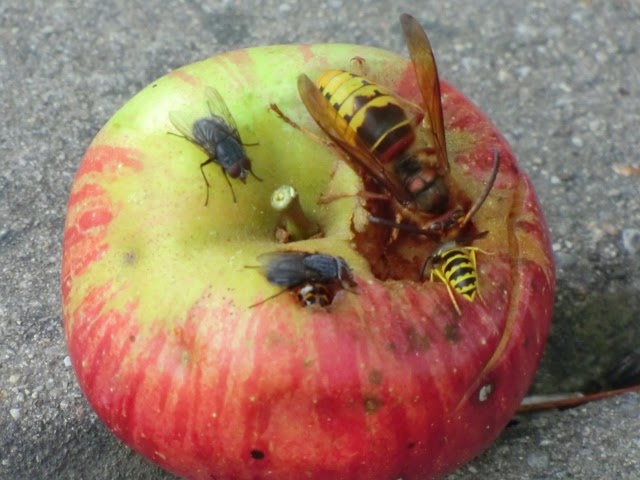 Satisfied hornets and flies congregate at an apple on the driveway.
The yellowed leaves cling to the tree.
Autumn dresses the trees in vivid color…
The beauty of an individual leaf…
Pumpkins on display…
Standing guard over hay and a pumpkin…
Black cats and pumpkins… Halloween is coming…
Fashionably attired and ready to be on display…
lighthouse on a lawn, with pumpkins and other decorations…
In October, there are always things that go bump in the night.
Girl, illuminated…
Creek in autumn…
the last color before a monochromatic winter sets in…
the fruits of the season…
a Halloween ghost…
some Halloween ghosts just seem to be so happy.
pumpkins… for decorating, for making pumpkin pies, pumpkin bread, pumpkin-chocolate chip cookies, etc.