On May 1st, I went with my friend Joy First to the sing-along at the Rotunda of the Wisconsin state capitol, in Madison. This sing-along has occurred every day since March of 2011. It features enthusiastic singing of old labor standards with updated lyrics. Many of the song lyrics recommend the immediate departure of office of Governor Scott Walker, who has polarized the citizens of Wisconsin.
Here I am at the sing-along with Joy First.
The conductor leads the performances each day. People enjoy singing and, sometimes, marching in circles. A songbook is made available to all who wish to join the chorus (either for the day or for the duration).
Joy First's wonderful cat, Alice Paul (great name, huh?)
This doll is one of Joy First's creations. She represents Joy when she gets older. She is a wonder, a sign of a woman's continued evolution.
At the May Day rally, on the steps of the state capitol in Madison.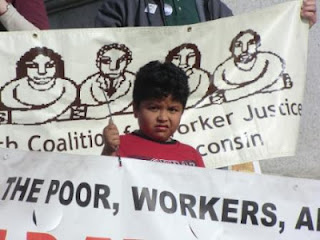 One of the many folks at the May Day rally.
The Raging Grannies enjoy performing at the kickoff celebration for the walk.