Today's blogging prompt is to share photographs. So today, I will share some of the pictures of things that I have decorated, painted, and designed.
My life as a visual artist has been quite an adventure. It almost didn't happen. At the age of fifteen, I decided that I was incapable of doing art so I abruptly gave it up!
Despite that, I couldn't stop doodling. I doodled everywhere. I found pieces of paper and started drawing random shapes.


As a (slightly) older person,
I went back to school, and I found out that I was required to take some sort of art class. The class that I chose was a drawing and painting class for nonmajors.
Because I was convinced that I was absolutely incapable of doing art, I said to myself, "Self! You have no talent! So don't worry about the end result! It will be terrible!!! Why don't you just have fun creating your bad art?"


That sounds really negative, right? Actually, it was a great approach. I freed myself from all expectations. I was completely focused on having fun.
As it turned out, I did have fun. And I was very relaxed because of that no-expectations thing. When my paintings were finished, I was very surprised because I actually liked them. A few of my classmates asked me if I was actually a beginner or if I was a ringer!


Well, yes. I was. A beginner. Not a ringer.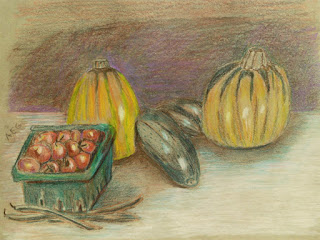 It was the start of my rediscovery of the joy of art.
It was also the start of my understanding that I didn't have to compare myself to other people.
It's not a contest, this exploration of creativity.
It is all happiness to let go of expectations and free your imagination. If you've been thinking of embarking on an exploration of your creativity, go for it. It will be fun, and you will discover things about yourself that you never even knew existed.


Speaking of contests, however, you have until tomorrow to enter my fun creative writing contest. Here is a link to yesterday's blog post, where you will find details about the contest! click here for details about the creative writing contest!