Valentine's Day is a fun holiday! In Ecuador, where I spent nine weeks in 2011, I learned that Valentine's Day is "El dia del amor y amistad" (the day of love and friendship). Before that, I thought that you could only celebrate Valentine's Day if you were in a committed romantic relationship or if you were a kid. I felt very sad and excluded. In Ecuador, I found out that I could be very happy and included.
There's nothing better than feeling included. And when better to feel included than on a day of love and friendship. Because the holiday is so much fun, I am going to share the process of decorating St. Valentine's Day cookies in this blog.

One small disclaimer: I did not bake the cookies. They were baked by Ellen DeNormand, who used to own a small bakery called "Momma De's."
While she ran her business, she organized fun activities in the bakery, including cookie and cake decorating classes and fun sessions, painting a variety of wooden objects.
She is still selling cookies and other baked goods but her bakery was closed. Before holidays, such as Halloween, Thanksgiving, and Christmas, Ellen puts together boxes of supplies: cookies, frosting, and various types of sprinkles, to sell. We do the decorating at home.
In the bakery, I learned how to use a bag to decorate the cookies. We start with plain cookies and then add frosting and sprinkles to the cookies.

At home, however, I don't have professional bags. I chose to substitute a little butter knife for the professional bag set up.

Once I covermy object (the technical term!) with frosting, there is still plenty of cookie left to be decorated.
After I finish decorating a group of the tea time treats, there are plenty of sprinkles to be added.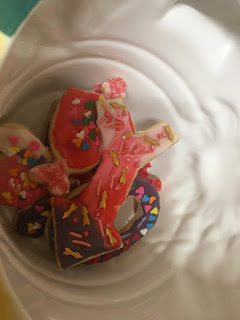 After letting the cookies set, they go in the cookie jar!

I still have more to decorate and expect that I will do that tomorrow. Decorating cookies is a very fun project for both adults and kids. Oh, and as for serving the cookies? Many people like to have their cookies with a glass of milk. I prefer to have my cookies with a cup of tea.
Today, the tea was an organic blend that I bought at the Valentine's Day edition of the farmers' market: hawthorn flowers with hibiscus.
It's a very delicious herbal tea. I had that with the honey that I also purchased at the farmer's market.
What are some of the things that you do to get ready for Valentine's Day?