Today was a cold, windy, and sometimes snowy day. It was winter trying to assert itself. It was the early flowers of spring popping out, despite the snowflakes and bitingly cold air. Here are some of the images of my downtown Buffalo experience.
At the Home and Garden show in the Buffalo Convention Center, I discovered a house (or at least part of a house). This is the outside of the house.
The theme of this house is Disney. Everything is Disney, especially Mickey Mouse. There are fun surprises everywhere. Look, even the carpet has a Mickey Mouse-shaped pattern.
Places for coats, shoes, umbrellas. All with that very bold color scheme.
Comfy and soft place to relax with Mickey and Minnie Mouse.
Bedroom decor.
Black and white bathroom.
This is another view of the bedroom.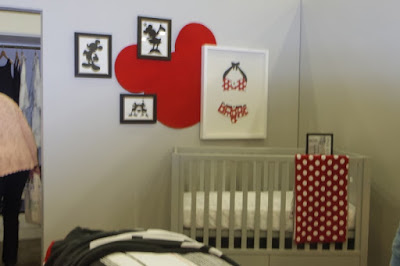 Baby's crib, very Disney-esque.
This is me in a mirror taking a picture of me and the mirror. Note the picture of Mickey's feet, entirely in black and white.
I saw my friends here and I posed for this photograph, next to this Mickey Mouse portrait. Photograph is Portrait of Alice Contemplating Mickey.
Isn't this a cute place setting?
What a cute chair!
After leaving the Mickey Mouse house, I went inside a tiny house that was designed and built by high school students at Erie 1 BOCES. This house is very tiny, the size of a small room. It sits on a new 2016 trailer.
This wood burning stove is the heating system for the house.
This is the kitchen sink. It is super tiny. You couldn't wash pots and pans in this itty bitty sink. There is a little refrigerator next to the sink and some cabinet space. Cooking is done outside on a grill. This is definitely a minimalist house. There is no room for stuff. The bed is a pull down bed. It's enough of a bed for one person but for a couple… well, let's just say that you'd have to get along very well or there could be problems.
It could be a very nice guest house for friends or family.
My next activity was to test out a bunch of beds. These guys gave me a tour of sleeping opportunities. The beds range from very firm to very soft. I tried most of them. I found that I did not like the firm beds. It was like attempting to sleep on a rock. The very soft bed was too soft and mushy. I could feel myself sinking into the bed more than I wanted to. I was happy with a bed that was more soft than firm. I liked the sensation of the bed accommodating my body.

One bed was too hard.
One bed was too soft.
And one bed was just right!
Just call me Goldilocks (but don't call me late to supper).
I wandered around the convention center and found some cool stuff… here are options for your garden… rocks? stones? or what color mulch do you prefer?
Oooh, the hot tub looks inviting.
I explored this lovely bathroom. I was attracted by the interesting-looking bathtub.
built in storage for bathroom stuff.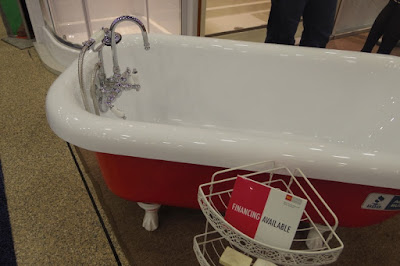 One display was a wide variety of bathtubs and showers.
Shower time!!!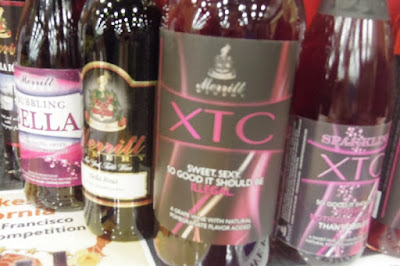 There were tasty things to sample, as well. I got to taste balsalmic vinegar, made by D'Avolio. The two flavors that I tasted were peach and cranberry-pear. They were scrumptious! Later on, I tasted a delicious sparkling wine.
Living decoration for the wall.
Antiques appraisal.
I left the Home and Garden show and went to a water is life march and rally. It was a cold, windy, and raw day. I joined a group that had formed on South Elmwood in downtown Buffalo. We marched in circles for a while and then we marched to the Bank of America. The Bank of America is one of seventeen banks that is funding the Dakota Access Pipeline, the pipeline that the folks at Standing Rock, North Dakota, have so strongly opposed. Below are the images from the march and the rally. The pictures below are images from the rally.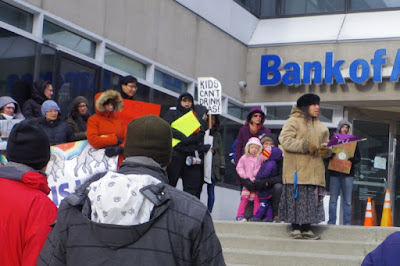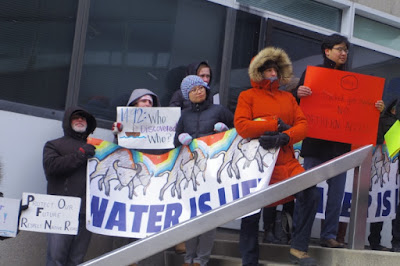 Stand with Standing Rock.