chapel at Stella Niagara
Nature Preserve
Today's blogging challenge is to write about glass windows. I love windows made of glass. They are beautiful. They are see through and they are reflective at the same time.


Glass windows were invented in the fourteenth century, but they weren't used in homes until the sixteenth century.
St. Luke's Mission
of Mercy, Buffalo
Before that, most glass windows were in churches and cathedrals.
window at the Grand
Island Welcome
Center, designed to resemble
a Frank Lloyd Wright
window style
They were beautiful, decorative stained glass windows that were made with methods that are no longer used for a number of reasons, including safety.


I love to draw and paint windows and to take photographs of windows, just because they are so beautiful.
picture window
in North Tonawanda, NY
North Buffalo, near
the Buffalo History
Museum
Buffalo's west side
Another set of windows from Buffalo's west side, taken during the annual Garden Walk. The earliest building in Buffalo was constructed around 1800. Most buildings were constructed after about 1814, as Buffalo was burned down during the War of 1812.
windows in Buffalo's west side, framed by a purple house
Saint Paul's Episcopal Cathedral in downtown Buffalo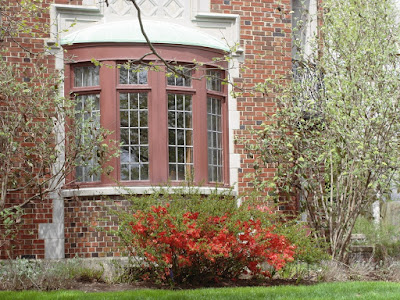 North Buffalo
window framed by ivy in Buffalo
Van Horn Mansion, Burt, NY. Originally owned by Judge James Van Horn, this building was opened in 1823.
round window in a chapel at Niagara on the Lake
downtown Buffalo

In this blog post, I have tried to show a wide variety of window styles that have attracted my eye within the past few years. I hope that you have enjoyed the tour of Western New York windows.
near the Buffalo History
Museum in Buffalo