Note: On January first, I started a new photography project. I will take at least one photograph a day for the entire year, following a program called the 52-week photography challenge for 2017. It is being organized by Dogwood Photography, located in Wilmington, North Carolina. Dogwood Photography operates a photography school in Wilmington and it runs online photography challenges. There are weekly assignments in three categories: story telling, technical, and artistic impression.
Today is the third in a series of 52 updates of the project. The challenge for the week was land (artistic). "Your inspiration this week is land. This could be a landscape, or an image inspired by the land in some way."
I am fascinated by land and by its relationship to humans. The pictures that I took explore how humans relate to the land that supports them and gives them their food. This picture was taken at the Riverside-Salem Environmental Chapel in Grand Island. This is a straw bale structure that is under construction. It is a building method that uses bales of straw as insulation, structural elements, or both. It is considered to be a sustainable method of construction and it shows a strong relationship between humans and their land.
Tall grasses and cattails grow in the ditches. In the autumn, they turn brown and straw like. This is the image of the cycle of life.
This picture was taken on small bridge in Grand Island. It is of Woods Creek. It shows the close relationship between land and water.
This is a closer view of the old cattails, with a fire hydrant. It is the juxtaposition between nature and man made things on the land.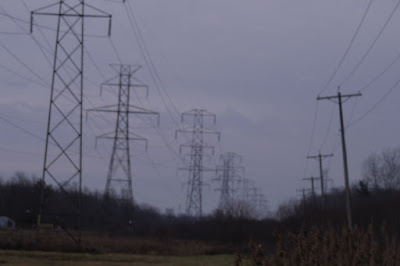 This is an image of the relationship between humans and land.
This is the Erie Canal in North Tonawanda, New York. The canal was completed in 1825. Canals are built to aid in the transportation of people and goods. They are man made waterways. A canal is a way that humans modify the land to suit their needs.
This is another view of the Erie Canal and the land adjacent to it.
This is a third image of the Erie Canal. It depicts the relationship between humans, the land, and the water.

Next week: Come back next Saturday for the next images in the 52 week photography project.