The challenge for week six of the 52-week photography project is "candy (artistic)." The goal was to take pictures of candy without showing actual candy in the photographs. That was a bit challenging, and I kind of showed actual candy… or maybe I did. Below are the pictures that I took and the stories that accompany these images.
Last week, I went to the Social Justice Teach-In at Case Western Reserve University in Cleveland, Ohio. I described my experience at the workshops in this blog post:
After the workshops were over, I had the opportunity to take a few photographs and to take a look at the tables, where good stuff was being sold, including this Equal Exchange chocolate. The chocolate comes from small farms in South America. I was tempted to take a picture of the two chocolate bars that I bought but, instead, I just photographed the display.
Another view of the display.
Selecting something good from many choices.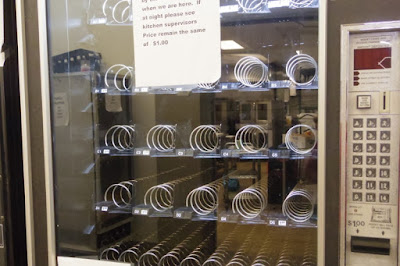 On Sunday, I was at North Presbyterian Church. After the church service, lunch is served. There are some vending machines in the building but they were empty. I started thinking about candy… candy not there because the machine had not yet been filled. The smaller slots on the bottom of the machine are usually the ones filled with candy bars and gum.
On Thursday, at painting class at Stella Niagara, we had a Valentine's Day party. The bear got a little box of candy and was happy not to be left out of the festivities.

Next week's theme: forgotten (storytelling). I will share my interpretation of "forgotten" next Saturday.