It is Monday, so it's time to update the 366-day photography project. Last Tuesday, I was just photographing random stuff… the mixed media painting that I had gotten framed…
… an insect crawling on my mom's Water Pik. I scooped the insect into a paper cup and deposited the insect outside.
… the crochet project that I was working on…
On Wednesday morning, I went to visit the dentist and the dental hygienist for my once-every-six-months appointment. The waiting room is very nice because it is full of my dentist's photography. I really enjoy looking at his pictures of gardens and buildings and other things.
Pretty clock in the dentist's office. I had a good dental appointment and I came out with exceptionally clean teeth, a new toothbrush, and a sample size tube of toothpaste.
I spent much of Wednesday working on the totebag and managed to finish it.
On Thursday, I went out to lunch with my Zumba class. We went to Ellwood's, in the clubhouse of River Oaks, a golf course. They serve lunches only until mid-November, at which point people pretty much stop playing golf until springtime.
I enjoyed a crock of delicious French onion soup. It was full of onions and bread and topped with loads of cheese. It was very delicious.
Decoration at River Oaks.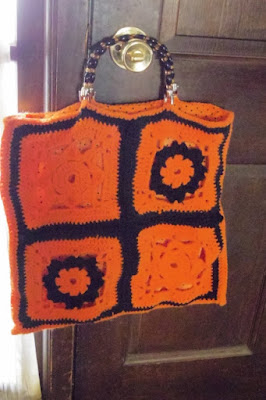 This is the completed tote bag. It was mailed on Friday to its new home. In fact, the trip to the post office was quite the adventure. I walked most of the two and a half miles to the post office when one of my gardening customers offered me a ride. I said that I was almost there, but he said it was OK, just get in the car. Within a few minutes, I was in the post office. As I handed the package to the postal clerk, I heard a lot of noise from outside. It was hail! I was very happy not to have gotten caught in that! I got a ride home and was relieved to get home dry and undented.
On Thursday, the telephoto lens that I had ordered arrived. I began experimenting with it by taking pictures across the room.
It is easier to take pictures of the cat when you don't have to stick a camera in her face. Cats generally take cameras in the face as their cue to depart… quickly.
Close-up views are better taken with the standard zoom lens.
China cabinet, taken with the telephoto lens.
Three friends.
On Friday, I am off on my way to the post office, as I mentioned earlier. There is a birch tree at the house next door, so I take a closeup of the bark.
the leaves flutter from the trees, landing on the grass…
In October, some flowers are still in bloom.
I get a better picture of Woods Creek with my telephoto lens.
On Saturday, I participated in a "virtual sketch crawl," which I described in detail in my art blog, "Sun, Moon, Stars." You can read the illustrated story about how I did this pen and ink drawing at: Sun, Moon, Stars.
On Sunday, I went to Riverside-Salem Environmental Chapel to see a documentary about the plight of Nepalese-Bhutanese refugees in a refugee camp in Nepal. We also heard a talk from Lamin Tamang, who is the coordinator of the local Bhutanese-Nepali community.
Lee Tetkowski listens intently to the presentation.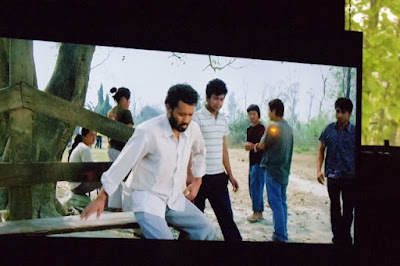 The movie was excellent. I will discuss it at greater length in tomorrow's post.
After the presentation, we enjoyed a delicious potluck dinner.
Our speaker brought this noodle dish.
Today, Mary Stewart and I went to Beaver Island State Park to take photographs.
The coolness of the air and the windy conditions did not deter the dog walkers.
This is the boardwalk.
Boat dock at Beaver Island State Park. There will be more Beaver Island pictures on Wednesday.