Yesterday, I returned to the Niagara Dance Centre, where I had been a tap dance student from the fall of 2015 until the spring of 2016. I had loads of fun then and got to dance in the recital. Being on stage in costume is as much fun as Halloween (my favorite holiday).
Unfortunately, transportation and other logistics got in the way of continuing the fun. But, this year, everything came together, and I returned, with my friend Amy and my sister Diane. It was wonderful to see the teacher, Miss Cathy, again, as well as the other students.

Tap dance is fun and it is good exercise, too. Amy said that it helps her with her balance. For me, tap dance helps me work on my rhythm, which I've always struggled with, both as a singer and when playing the piano. When you do tap dance, you become a rhythm instrument. Your shoes make a noise, and you make that noise in beat with the music.
And there are other benefits to tap dance besides being a rhythm instrument. As I mentioned, tap dance is good cardiovascular exercise. When you dance, you will become more flexible and more in control of your body. Also, dance is good for exercising your mind. You have to learn steps and then you have to learn combinations and then you learn an entire dance routine. And dance is a social event. You dance with other people, who also really enjoy dancing.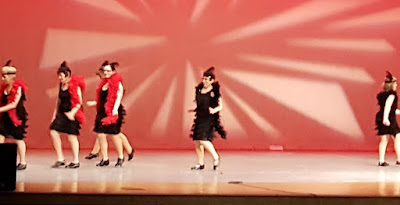 You are never too old to learn how to dance. I can't encourage it enough. I used to think that I was too old to learn how to dance… until I started doing it. Give dance a try. It is a fun type of exercise. There is nothing like getting in shape and putting on a show at the same time.