I went to River Lea yesterday. On our way there, my friend Curt and I saw an eagle and an egret. It was an Accidental Bird Watcher Jackpot!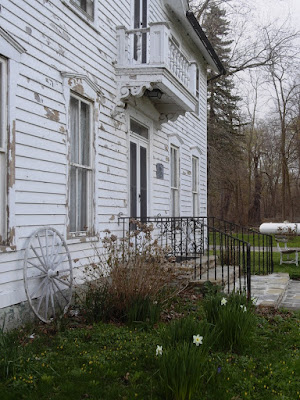 Well, River Lea is the home of the Grand Island Historical Society. It's located within Beaver Island State Park, which is where Curt and I hit the Accidental Bird Watcher Jackpot. The house called River Lea was constructed in 1873, as a summer residence for a man named W. Cleveland Allen. He was the son of Lewis Allen, for whom Allentown in Buffalo is named. Lewis Allen bought a big chunk of Grand Island and turned it into an experimental farm. He had cattle and he grew a lot of apple trees. It is said that he introduced the northern spy apple to Grand Island. He was also a big shot in local and state politics. Hence, Allentown was named for him.


And Lewis Allen had another claim to fame. He was the uncle to the only person to be considered to be two presidents. That would be S. Grover Cleveland. Actually Stephen Grover Cleveland. Most people don't know about the Stephen part. They just know Grover Cleveland. He dropped the name Stephen. When Grover Cleveland was a young man, he was called "Big Steve" because he was… big. He was smart, too. He had to quit school at the age of 15 after his father passed away. He supported his family, but later left his native New Jersey to travel west. He was heading to Ohio but he ended up in Buffalo. He worked summers, keeping inventory of the cattle at River Lea. Eventually, he read the law and became an attorney. When he got into politics, his rise to fame was fast. In 1884, he was elected president. Four years later, Benjamin Harrison, the grandson of the shortest-serving U.S. president (William Henry Harrison) defeated Grover Cleveland. But Grover Cleveland was not the sort to give up so he ran for president again in 1892, and he won. Hence, he was the only president to serve two nonconsecutive terms, which is why he is considered to be two presidents.


But… River Lea was saved in 1962 because a group of people, who later became known as the Grand Island Historical Society, connected the house to a president. No one knows if President Cleveland actually stepped foot in the house. It had been abandoned, and it was scheduled for demolition. But, since the house was saved and the Grand Island Historical Society became a thing, it probably doesn't even matter where President Cleveland placed his feet.


Besides this rather tenuous connection to a president, River Lea is also known for its gardens. Someone went to a lot of trouble to plant massive numbers of daffodil bulbs in the gardens in front of the house and around the side of the building. The yard is a treasure house of daffodils.
Sometimes, the Grand Island Historical Society hosts Victorian teas inside. They are always held when the daffodils are in full bloom. It is a wonderful thing to see a yard teeming with life like that. And so, slowly but surely, spring continues to unfold into joyful life.