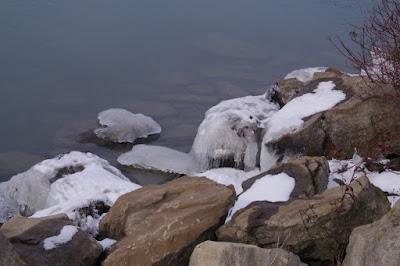 The Niagara River has existed for about 18,000 years. It was a product of the last ice age. The river connects Lake Erie with Lake Ontario. It is part of the North American watershed that connects the Great Lakes to the Atlantic Ocean. The Great Lakes contain about 18 percent of the world's fresh water.
For more information about the Niagara River, Niagara Falls, and their formation, check out this website: Niagara Parks
Rocks in the Niagara River include sandstone, shale marine, and limestone. The rocks have been there for years, through storms and bright sunlight and ice.
This is where the ice and the water meet.
People in vehicles large and small pass this place, in their worlds of busyness. They drive over the river with its gathering ice, heading somewhere else.
Here is a closer view of the under side of the bridges. Sometimes, I wonder what the river looked like before there were bridges and factories and all of the other things that go into human society.
On my walk, I saw some animal footprints (mostly dogs on leashes) and lots of human footprints. I saw just a few birds: a duck swimming under a bridge and a cardinal flying around a tree.
The old cattails still stand tall.
The city of Niagara Falls, New York, is silhouetted in the distance.
Here is a closeup view of the stone bridge.
No one sits here in the winter.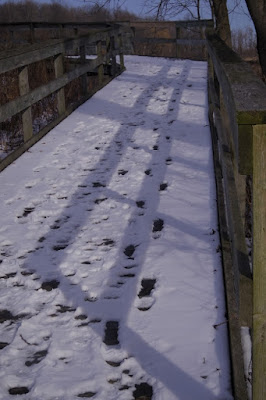 People come to look at the birds from behind some blinds. It is a good place to place a camera and photograph birds.
The wetlands of Buckhorn Island State Park. I did not see any birds there that day.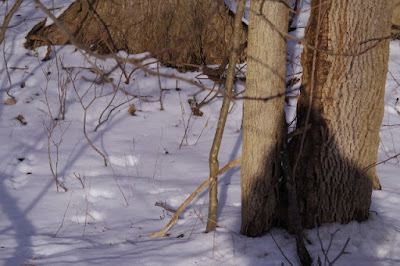 Here I see signs of animal tracks. At one point, I saw a small animal scurrying in the grass. It was the right color to be a fox but, on the other hand, it might have been a cat. When I got close enough to see it clearly, it had departed, apparently shy of humans.
This is the marsh, as seen from the road.
This is another view of the marsh. According to Wikipedia, marshes are defined as wetlands that are dominated by herbaceous, rather than woody, plant species. Marshes provide a transition from aquatic to terrestrial ecosystems.
A marsh is one type of wetland that can be found in Buckhorn Island State Park. There are also swamps in the park. Other wetland types include fens and bogs.

Note: I'll return to Buckhorn Island State Park to take another series of pictures in May, to depict spring in the park.