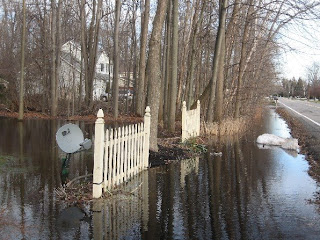 A few weeks ago, it start snowing, and the snow just kept on falling. Of course, it happened on a weekend, and I had to go to choir practice on Sunday morning. So I walked the approximately two miles to get to church. It was a real adventure in walking. I walked on the very snowing shoulder of the road because the town that I live in is not especially blessed with sidewalks. The few sidewalks that exist were pretty snow covered, anyway. I never go anywhere without a camera so I got some interesting (and not very colorful) views of my world, buried in snow.
Anyway, walking through the snow felt sort of like walking through sand (cold sand!) on a beach. It was an aerobic workout, to be sure. After church was over, my friend said that she and her husband were going to drive me home and not drop me off at the bike path, which is where I usually go. I said that the bike path was buried under snow.
A few days later, it started to rain… and on one wild and windy day, the temperature hit 60 degrees! That was rather bizarre after the deluge of snow.
The snow is gone and has been replaced by… water! Lots and lots of water! I've been walking outside every day (except on the wild and windy day, when I went to the gym and went on the treadmill) and, of course, I had to take pictures. I was interested in the new lakefront property.
It's gotten a lot colder today, so some of that water has turned to ice… and now it might be just about ice skating time…
Speaking about new lakes, I have a friend named Cassandra, whom I met when I was walking through Wisconsin last summer with the Witness Against War walk. She said that, when Wisconsin experienced its terrible flooding last June, new lakes formed where lakes had never existed. She said that they were beautiful. Some of them lasted through the summer.