Walking is both good cardiovascular exercise and transportation. It's a way to get from point A to point B. But, beyond that, it's a way to see the world, close up and vivid. In a car, you see things as you whiz past them. When you walk, however, you are within touching distance of your world. You can stop and explore, pick flowers, taste fruit from the tree, dip your feet in the water, and much more. Sure, there are risks to walking. Drivers can't always be counted on to pay attention to slower-moving traffic (pedestrians and bicycles). You could feel sore and develop blisters after a long walk. Nevertheless, it is worth it to experience the world in this way.


I have been fortunate enough to have walked in a number of different places. Some of my walks have just been for the sake of walking, while others were deliberate walks with a group for a cause.


Below are some of the pictures that I took along the path.
I walk in all seasons. As long as the weather is not oppressively cold or windy or too icy, I will walk in the winter. The world is white and fresh, and monochromatic.
Winter looks best in black and white. It is all about the shadows in winter, not about the color.
This is a painting that I made for a walk against drone warfare that Voices for Creative Nonviolence held in 2014. The walk was from Chicago to Battle Creek, Michigan.
In 2014, I went to Bend, Oregon, to visit my friends Betsy and Ann.
Central Oregon is where a number of western television shows, such as "Have Gun Will Travel," were filmed.
It is truly the wild west, with painted canyons and large rock formations and tall mountains. The ecosystem is high desert. The most common plants are sage brush and juniper trees.Above is our friend Phillip Randall, who is very knowledgeable about the canyons and rock formations and other interesting features of central Oregon.
The lichen grows on the rocks, giving it a wild assortment of colors.
Here I am in a very small cave.
This is Smith Rock. It attracts rock climbers from all over the world. It is good for rock climbers of any experience level, as there are rocks that are suitable for beginners and other rocks that are suitable only for very skilled climbers.
Betsy and Anne and their cat.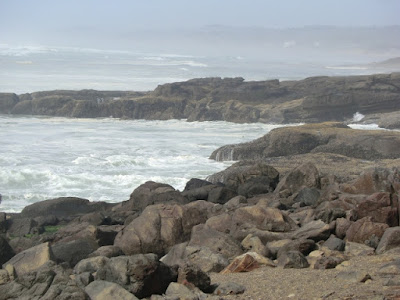 This is Oregon's rocky coast. We went to visit the coast and we spent the night at the Historic Anchor Inn in Lincoln City. It is a hotel that's very much like a bed and breakfast. You get a free homemade breakfast. It is quite delicious. The ocean is a few blocks away.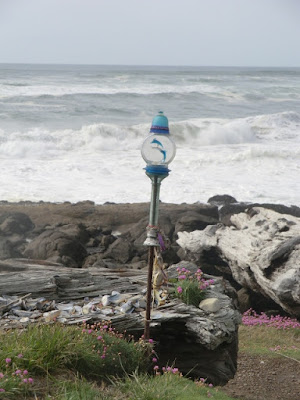 Relay for Life is another type of walk. People walk around Veterans Park in a large circle. They are raising money to support the work being done by the American Cancer Society to eliminate cancer from the earth. Above are luminaria that are lit at night. They honor survivors and help us remember the loved one who died of cancer.
The walk against drone warfare from Chicago to Battle Creek, Michigan started in June of 2014 in downtown Chicago.
Senji Kanaeda, a Buddhist monk from Washington State, participated in much of the walk. He brought to us a very calm and peaceful demeanor and a beautiful baritone voice. He especially enjoyed singing spirituals in that wonderful deep and warm voice.
Our walk began on a beautiful sunny day in downtown Chicago. We walked through many neighborhoods in Chicago, as we headed east to Indiana.
Some walkers joined us for the day.
Our second day was dreary and wet. We left Chicago and walked through industrial areas of Indiana. We walked through a wasteland that had been used up and discarded. It was a part of the rustbelt where hope truly seemed to have fled.
This is one of our walkers. Her name was Jessica at the time. She has since changed it to Kestral Peace. She is an environmental activist from Kalamazoo, Michigan. She brought enthusiasm and energy to the walk.
Relaxing at a park outside of Gary, Indiana.
Maya, from England, and Ceylon, from Memphis, Tennessee, bring zaniness and fun to the walk.
In April of 2015, I participated in part of the Walk for a Nuclear Free Future. The part of the walk that I joined started in Buffalo and ended in Sunset Bay on Lake Erie.
It was a cold day when I joined the group near City Hall in downtown Buffalo. Buffalo's City Hall was built in an art deco style and is quite an impressive building. Tours are offered daily. The view from the observation deck is quite spectacular.
We travel on foot through city and suburb and countryside. We share our message of hope for a nuclear free future with all who see us and our banners.
A week after I started walking, we reach Lake Erie. On our last day, we are part of the annual water walk that is sponsored by the Seneca Nation of Indians. The Cattaraugus Creek is polluted, and the suspected source of the pollution is the nuclear facility called the West Valley Demonstration Project.
The sun sets on the adventure but not on hope for a better, healthier future.
Sometimes, I walk closer to home. This is the marsh at Buckhorn Island State Park, a restored wetland area and a wildlife sanctuary.
In August, I join the walk sponsored by Voices for Creative Nonviolence. This one starts in Madison, Wisconsin, and ends in Volk Field.
We walk through city and countryside, well-off and impoverished areas.
Brian (on the left) lives in Iowa. He is a farmer and an activist. Jules is a retired bookstore owner from New Jersey. I first met him during the 2010 Walk for a Nuclear Free Future from Salamanca, New York, to New York City.
This is one of the things that makes really long walks so worthwhile.
Maya and Tyler. Tyler lives in an off the grid community in Missouri.
Maya enjoys trumpeting the cause of peace in the Wisconsin Dells.