In October, documentary filmmaker Jackie Albarella gave a presentation to the Grand Island Historical Society about the history and restoration of the Hotel Lafayette in downtown Buffalo. I was so fascinated by the pictures of this Buffalo landmark that I bought Jackie's book. The book was created from Jackie's experiences at the hotel. She was able to visit the restoration project daily and document the entire two-year process of restoring the hotel to its former status as an architectural gem in the City of Buffalo.
Here is a link to my October blog post about the Hotel Lafayette:
Restoration of the Hotel Lafayette
Incidentally, the City of Buffalo is filled with architectural gems and, when the weather is more conducive, I will photograph some of Buffalo's more interesting structures and share those pictures on this blog.
Yesterday, my friend Dave Baker and I went to the Hotel @ the Lafayette to attend a fundraiser for the Buffalo and Erie County Public Library system. The fundraiser involved food and wine and a silent auction. Many people were there to enjoy the festivities and to show their support for the library system. The building is just as beautiful as the pictures depicted it to be but the acoustics inside? A nightmare. Way too loud and echoey and I did not understand a word that the speaker said.
Here are a few pictures of the building that I took.
This painting is part of the wall. After Rocco Termini purchased the building and began the restoration process, he had art conservationists restore this painting to its original condition.
This corridor features all sorts of interesting stuff, including this pattern on the floor.
Patterns in the glass.
Detailed ceiling. Almost like a love letter from 1913.
Interesting geometric design.
Old style telephone.
The Pam American Exposition of 1901, as seen outside of the ladies room. The original intention of the Pan American exposition was to celebrate electricity and the marvels that it created. As Buffalo was among the first cities in the United States to be electrified. Unfortunately, President McKinley was shot outside of the Temple of Music. A few days later, he died, and that is the thing that is most remembered about the Pan American Exposition (the death of a president),
Another view of the Pan American Exposition. Most of the buildings were temporary. The one building that was not later became home to the Buffalo History Museum, home of the Buffalo Historical Society.
A fine place to enjoy food or drink… but exposed to the elements so it is not used in the winter…
A peek inside the florist shop, which was closed.
Another view of the florist shop and its Christmas decorations. Soon it will be time to decorate for Valentine's Day!
A view of the mailboxes at the original checkin desk at the hotel.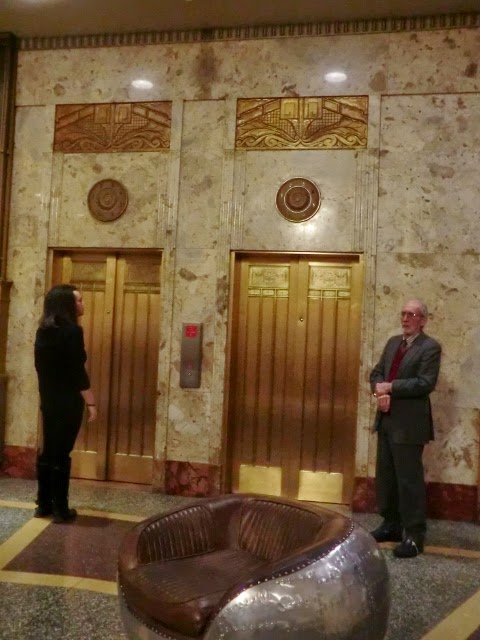 Dave Baker waits for the elevator.