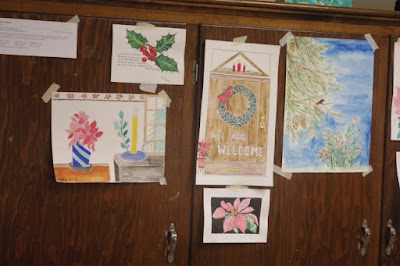 Today, I went to painting class at Stella Niagara Educational Park. It was exceptionally cold outside today. Yesterday, we got wind and snow, and today, we got the very low temperatures. When I left the house, I could hear, as I walked to my friend Mary Lee's car, that crunchy sound that snow makes when the temperatures are very low.
It's almost Christmas, so our theme was poinsettias and holly and all of those other plants that we association with Christmas. Here are some facts about poinsettias that I found from the University of Illinois Extension website, as well as from a Wikipedia article about John Roberts Poinsett, for whom the poinsettia is named:

Poinsettias are part of the euphorbiaceae or spurge family. The botanical name of the poinsettia is the euphorbia pulcherrima.
Poinsettias are not poisonous. The leaves, however, taste terrible and could cause vomiting and diarrhea in an animal who decides to eat the plant, despite the atrocious flavor.
The "flowers" of the poinsettia plant are actually modified leaves.
In Mexico, the poinsettia is a perennial shrub.
The poinsettia is named for Joel Roberts Poinsett, who died in 1851. National Poinsettia Day is December 12th, which was the day that Mr. Poinsett passed away. Mr. Poinsett (1779-1851) was a physician and a diplomat. Originally from South Carolina, Poinsett spent much time traveling though Europe and Russia. President James Madison appointed him to be special agent to Chile and Argentina in 1810. He served in that capacity until 1814. After he returned to the United States, he served in the legislature in South Carolina. He later became a member of the U.S. House of Representatives. In 1822, he became a special envoy to Mexico. It was there that he discovered the colorful plant. He was an amateur botanist and he sent samples of the plant to the United States. In Mexico, the plant is known as Flor de Nochebuena (Flower of Christmas Eve). By 1836, the plant became known as the "Poinsettia." He later served as President Andrew Jackson's confidential agent and as Secretary of War from 1837 to 1841.
We all interpret the theme in different ways. Below are some of the paintings made by the group.
My painting has three poinsettia plants. For an illustrated description of how I made the painting, take a look at my blog post in my art blog, "Sun, Moon, Stars." The link is below: