Yesterday, I went to Stella Niagara in Lewiston to paint a snow scene. Specifically, the lesson was to paint a bank of trees with at least one animal in front of the trees. Prior to class, I had drawn two foxes on the page. These animals were young and looked like they were nuzzling. The below photographs show how this painting came to be.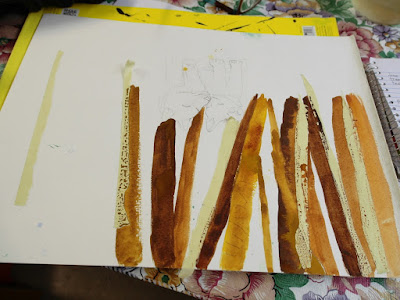 The first thing that I did was to put strips of masking tape on the paper, to mask spaces for birch trees, which are mostly white. Once we had the masking tape in place, the next task was to paint the bank of trees. Virginia suggested that we paint the trees upside down, so that we would be more likely to focus on color and on shapes, rather than on trying to make trees look like trees. So, that's what I did.
The next step was to paint the sky, peeking out from between the trees.
At this point, I removed the masking tape from the painting and I gave some shape and shadowing to the birch trees.
It was time to turn the paper around to paint in the animals and to add some shadowing to the snow.
And here they are!
The last things that I did were to add some branches to the trees and to spatter white acrylic paint onto this watercolor painting, to give the impression that it was snowing. Soooo… one of the problems with watercolor is that people tend to overwork them. Hence, it's necessary to know when to pronounce the painting finished and sign it. Of course, running out of time helps, and that's what happened. The painting is done!
Each painting is different and reflects the personality of the artist.
More paintings of a wild, wintry world.
Keep visiting for more paintings and other types of artwork!