Last month, I participated in a walk from Savannah to King's Bay, Georgia. The walk was titled the Disarm Trident Peace Walk, and we were walking to bring attention to the King's Bay Naval Base, the home of Trident II submarines, which can carry up to twelve D5 missiles. Each of these warheads is six times more powerful that the atomic bomb that was dropped on Hiroshima, Japan. These weapons are among the most dangerous weapons ever invented.


We walked to say no to these weapons. We walked to say yes to life and to our gorgeous, but fragile, environment. The walk was spectacular. It took us through breathtaking wetlands, past rivers and tribuaries, and close to the Atlantic Ocean. We met interesting people who had wonderful stories to tell.


In the next few blog posts, I will share snapshots of life that we experienced while walking in coastal Georgia.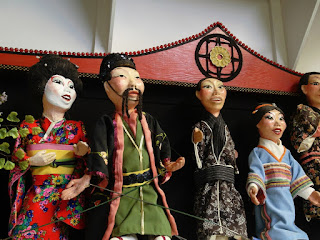 I took many pictures on the journey. Today, I share pictures from a place in Savannah, called The Puppet People.
This is the home of a puppet company and it is filled with puppets that were designed by Angela Beasley.
She is a master puppeteer and has been one for forty years.
She directs a company called Angela Beasley's Puppet People.
Steve Dear & his new friend