The Oregon Garden is an 80-acre botanical garden, located in Silverton, an historic town in Marion County. One interesting feature of Silverton, which I did not see during my visit, is the Frank Lloyd Wright house, located next to the Oregon Garden. It is known as the Gordon house. You can find more information about the Gordon house here.
Betsy, Ann, and I did have our lunch, prior to our garden tour. We ate outside at a restaurant in downtown Silverton. It was delightful to eat outside. The view was spectacular. It was, however, a bit chilly. We did not have any desire to go inside, despite the chill. The sun shone brightly, promising a good afternoon for touring the gardens.
The view from our table at lunch.
When we arrived at the gardens, we saw that many plants were blooming, even though it was early in the season. We started our garden exploration with a 25-minute tram tour, narrated by the driver. This gave us a good overview of the gardens.
In the tram, ready for the tour.
On our way, past trees, new and old.
Exploring the habitats at the Oregon Garden.
Already, there is a lush carpet of color.
A way to use stairs, both to get to the garden and for visual appeal.
More stairs. These are made of stone and are visually quite appealing.
I'm not really sure of what this is…
We rode past a variety of habitats, from high desert to wetlands. We saw a sensory garden and a children's garden and a pet-friendly garden and a rose garden. We saw sculptures and benches shaped like butterflies. We saw places for people to eat and a resort for people to enjoy a holiday.
This was one of the cuter and more unusual ways to prune shrubbery. I'm not ready to try this at home, however.
I brought the bear and posed it here, amid the rocks and greenery.
The bark of the Ponderosa pine.
This flower (and many others in the Oregon Garden) attract bees. Sometimes, if you're lucky, the bee will pose for you.
A carpet of color.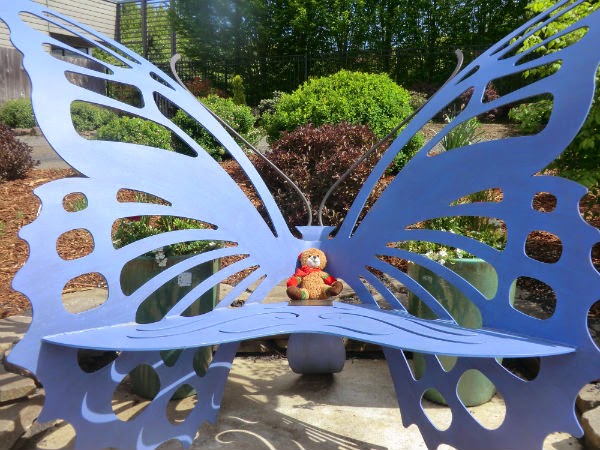 The bear relaxes on the large butterfly bench.
This is the weeping sequoia.
After we got off the tram, we wandered around the gardens to take photographs and to explore the bright colors of springtime. We could touch the tall trees, including the ponderosa pine and the weeping sequoia.
A place to relax and socialize over lunch.
Inside the Visitors Center.