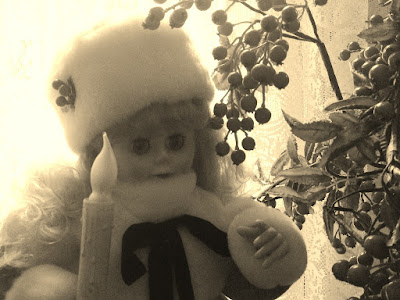 Once I got the pictures on the computer, I decided to play with the settings. I wanted some of the pictures to be more about lights and darks and less about color. This one is more sepia than black and white.
a black and white version.
Yesterday, I went to a party at Mary Lee's house with some of my artist friends. We laughed and chatted and shared a meal together. It was truly my last holiday party. Epiphany was on Sunday and that was the twelfth day of Christmas.
This time, I decided to adjust
the color so I made this
picture look very pink…
Mary Lee's house still had some lovely Christmas decorations, which I share today.
this time, I tried purple. It
looked cute but the effect
wasn't as dramatic
as the pink version.