Food is photogenic. It is colorful and comes in variety of shapes and sizes. Above is a giant strawberry that makes a quarter look like a miniature.
This is one of the pineapple brownies that I baked. The pineapple is in the center of the brownie. It is kind of a little surprise for the eater.
I made this applesauce from several types of apples. I have found that using a variety of sweet and tart apples makes a yummy applesauce.
Here are some double chocolate chip cookies that I baked. The way to bake these cookies is to use the Tollhouse cookie recipe and mix in approximately one-quarter of a cup of special dark cocoa to the flour mixture. All chocoholics in my family have been very satisfied by the projects that I undertook (cookies and brownies).
Snow human: I can always go for a delicious grapefruit!
Garlic bread with spinach and tomato tastes great with soup. I had this garlic bread at the Village Inn, at the southern end of Grand Island. To go with it, I had a cup of seafood gumbo. Yum. Quite excellent. The Village Inn makes homemade soups and they have different soups every day. If you're in Grand Island, New York, check out the Village Inn.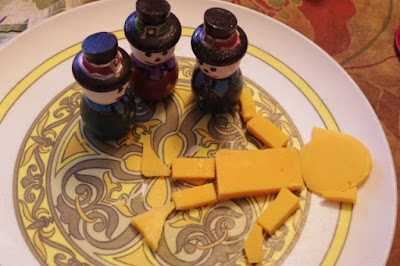 My mom used to tell me to stop playing with my food. I guess that I didn't pay much attention to that. I still enjoy playing with my food. The cheese human is receiving a visit from the snow humans.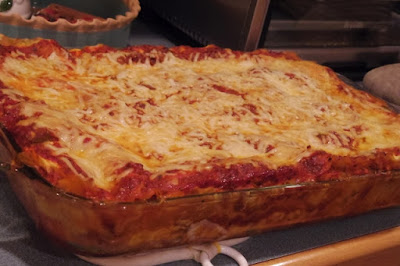 Today, I went to my sister Vivian's house to celebrate my nephew's birthday. My contribution to the meal was dessert in the form of applesauce brownies. Vivian made this lovely lasagna, which was my nephew's choice for his birthday meal.
Here is my meal… lasagna, garlic bread, and asparagus (my favorite vegetable!).

On your birthday, what would your meal of choice be?