Early in January, I posted that I intended to crochet one square a day for a year! (link to "The 365-day crochet project). And that worked, until I actually had thirty completed squares and it was time to start piecing together the afghan and crocheting the border. So I've had to adjust and include time creating the afghans as part of the challenge. It is still a 365-day crochet project, even though I don't see myself as making a new square every day.


But that's OK. Things change over the course of time. And the good news is that I now have my first completed afghan for the year.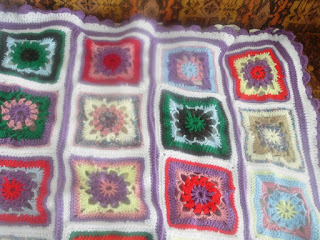 Nearly all of the yarn used in this afghan is scrap yarn from other projects, either mine or other people's. I used the same pattern for all of the squares.
Nevertheless, each square is different, mainly because of the color combinations. In piecing the afghan together, I didn't make much of an effort to match squares to each other. I decided to use a random approach in choosing squares to go together.


My goal was to make this afghan look like the crochet version of a patchwork quilt.
The original purpose of a patchwork quilt was to use up scrap pieces of fabric. So this is the yarn version of the patchwork quilt. I guess that I can call this afghan a "patchwork afghan."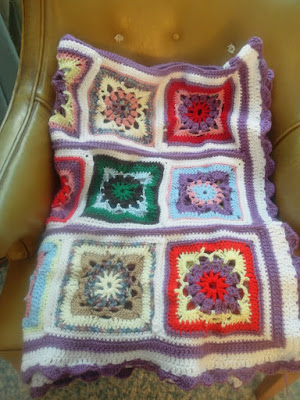 I am very happy with this afghan and I thank everyone who gave me their leftover yarn. My plan is to take this afghan to Roswell Park Cancer Institute within a few weeks, where it will be donated as my gift to someone who is fighting cancer.
Future afghans will be donated to other places, such as nursing homes and refugee shelters. Stay tuned for updates right here!