In today's blog post, I am continuing with the concept of creating community in your home town.
Today was a beautiful summer day, warm and sunny. It was a delight after so many dreary days, both rainy and cold. The radiance of today's weather drew me to Buckhorn Island State Park, which is a restored wetland and a wildlife sanctuary. It is an important bird area and it attracts many migratory birds, both on their journeys to northern Canada and their journeys south.

I encountered a number of other people and their dogs at the park. There were people who were walking dogs, people who were fishing, kayakers, bicyclists, and joggers.


Because of the high tick population, I took precautions by applying flea and tick repellent that I bought at the Grand Island Farmers
Market from Sheila Olmstead Daminski.
bridge to Niagara Falls connects communities
(sort of because pedestrian access
is not the greatest)
It's 100 percent herbal and I thought that it had a pleasant aroma. Apparently, the ticks do not agree. Although I am not happy with the idea that my fellow humans could think that I am stinky, I like the idea that a tick would find my smell disagreeable.
At the park, I recognized one of the dog owners as the husband of a lady who is a member of a book club that I used to belong to. I switched to the library's book club after it began a few years ago. The gentleman's name is Dave. He's a member of the Lions Club. It's a service organization that focuses on helping people with visual impairments. One of the Lion Club's biggest events is the annual Special Kids Picnic, held at the Buffalo Launch Club in Grand Island.
Dave's dog loves to swim
This picnic is held on the third Wednesday of July. A large group of kids comes for the event. They can have a boat ride and they can play games and enjoy the outdoors. They are also offered as lunch.


The park attracts people because of Woods Creek and the marsh and the access to the Niagara River. It attracts people because of the wild nature that is permitted to flourish.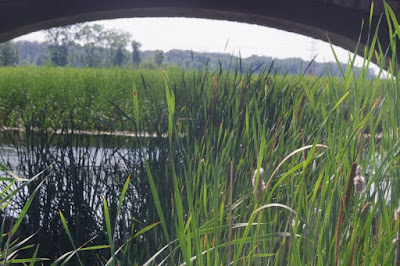 There is very little that has been added to the park.

There are no picnic tables or concession stands or anything else that might be found in a regular park, as opposed to a wildlife sanctuary.
There are wild flowers galore and lush greenery.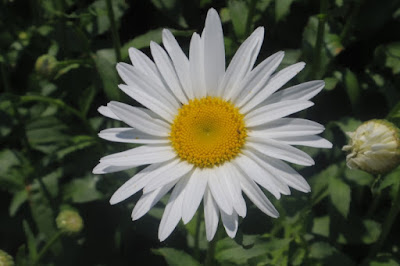 For that reason, Buckhorn Island State Park is my favorite place in Grand Island.