Welcome to 2016!
It's time for new adventures and new hopes and new stories. It's time to continue some of the unfinished things from last year, as well. One of the things that I am continuing is my 366-day photography project that I started on August 1st, 2015. After five months of the project, I am happy to say that I have not missed a day of picture-taking. I feel that this project has been a good experience for me. It's been a great way for me to document where I've been. I've been able to chronicle many of the events of my community and share those events, both in the local newspaper (Island Dispatch), on Facebook, and here on this blog. You might want to think about doing some sort of year-long project, as well. It sounds like a big commitment, but it is so worthwhile.

Below are my pictures for the week, with the stories behind them.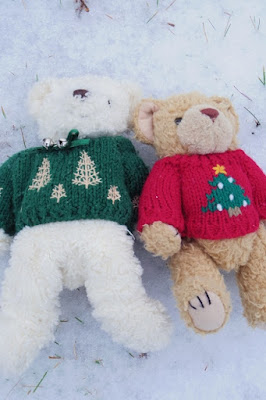 On Tuesday, December 29th,we got our first measurable snowfall. I doubt that it was an inch but I still took the bears outside so that they could be photographed in snow.
The bears start thinking about hibernation. The human considers that option as well. Wake us up when the birds are chirping!
I designated Wednesday as Kitchen Fun Day and made applesauce and chocolate chip cookies.
The kitchen was a busy place for a few hours.
This is how much applesauce five quarts of apples produces.
I add cocoa to the batter to get the extra chocolate flavor. Dark chocolate cocoa and dark chocolate add a great deal of flavor to the cookies.
On Thursday, I continued with the chocolate theme by making pineapple brownies. Here is the pan, ready for the oven.
The brownies are out of the oven and cooling.
Time for a brownie taste test, with tea!
On New Year's Day, I went to the Buffalo Launch Club for the inauguration of five town officials: Nate McMurray as town supervisor, Mike Madigan and Bev Kinney as town board members, Sybil Kennedy as town justice, and Pattie Frentzel as town clerk.
The boats have been put away for the winter.
The day's festivities begin with a flag presentation by the American Legion.
A quartet from Grand Island High School's Madrigals sings the national anthem.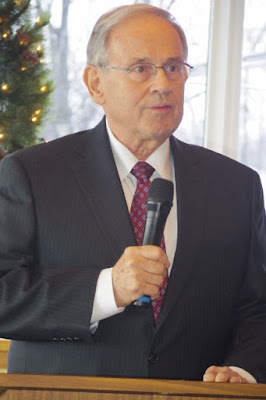 Phil Buchanan serves as the master of ceremonies for the event.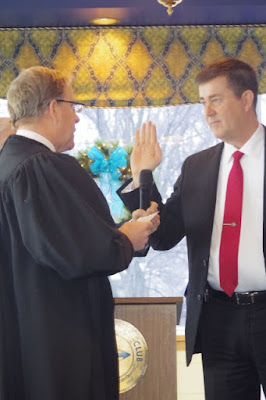 Mike Madigan takes his oath of office.
Nate McMurray, surrounded by family, gets ready to be sworn in as town supervisor.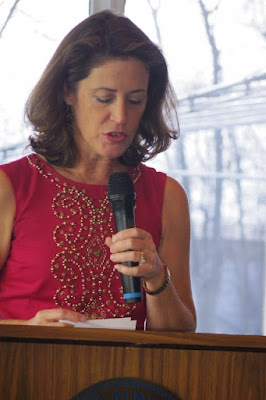 Pattie Frentzel announces that it is time for everyone, including herself, to sign a book. As town clerk, one of her jobs is to maintain town records, including the book that people sign when they are sworn in to their new elective positions.
Good luck to all! In front, from left to right: Pattie Frentzel (town clerk), Sybil Kennedy (town justice), and Bev Kinney (town board member). In back, from left to right: Nate McMurray (town supervisor) and Mike Madigan (town board member)
Here is another view of the river from the window at the Buffalo Launch Club, which is in Grand Island, not Buffalo!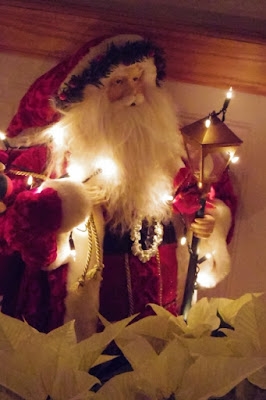 This is a lighted Santa that I found at the Buffalo Launch Club.
A warm cup of tea is a delight in the winter.
On Saturday, I gave my sister a drawing lesson, which I chronicled in yesterday's post in my art blog, Sun, Moon, Stars.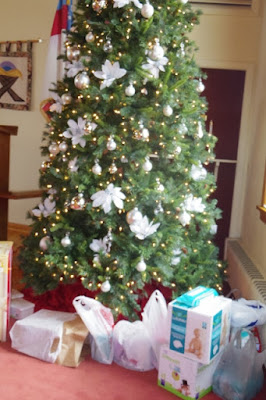 Epiphany was celebrated early at Saint Martin in the Fields. The actual date of Epiphany is January 6th. This is the second year that Saint Martin's has made a collection of gifts for babies, to be donated to the Family Justice Center. It is for women who fled domestic violence situations, bringing their children, but little else. The Family Justice Center, with Mary Travers Murphy, is one place where victims of domestic violence can go to get whatever help that they need, including referrals to safe housing, support in the court system, etc.
All of the Christmas decorations were taken down, and the poinsettias were given away to anyone who wanted to take one home.
Christmas was snowless but lovely. It was full of music, friends, family, faith, and love.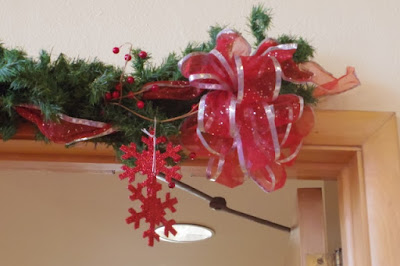 This morning, the snowhuman attempted to eat a grapefruit that was too large for him. I was kind and ate the grapefruit on his behalf.

Too much indoor time makes Alice a very silly person!

Next week: who knows? Each day… a new adventure!