On Sunday, April 10th, Father Earle posed in his new robes. He announced that he wanted the entire congregation to pose with him. He was thrilled with the gift of the robes that befit a canon (not cannon).
Father Earle and friends.
Coffee hour.
The socks make the outfit complete.
Sharon enjoys coffee hour with Father Earle.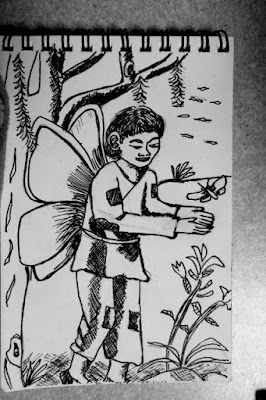 This is the butterfly boy, a boy who could see the world from the perspective of a butterfly.
I made an omelet on Monday morning.
This is a utensil that I had purchased last summer at a yard sale. The pattern for the utensil (a teaspoon) is called "Jamestown." It was made by Holmes and Edwards in 1916.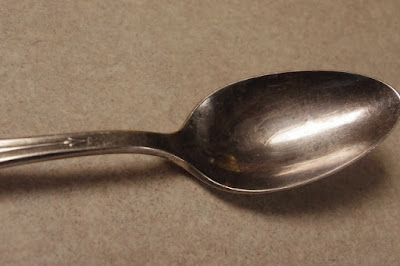 Jars, jars, jars…
… and a bowl…
It's still cold. I stay inside and take pictures of an orange…
… the pattern of a bone china teacup…
Saucer and another spoon that I purchased at a rummage sale. So far, I have not identified this pattern.
Ahhh, teatime!
Here is a snack to go with that tea.
Here is my framed painting.
This looks like conjoined twin strawberries.
This is the completed afghan!!
Here it is. It was a good project and very colorful. I used a lot of scrap yarn in this project.
On Friday, I went on a road trip with the Grand Island Historical Society. We traveled to downtown Buffalo in several cars. I was with Curt and his friend. We parked in a downtown parking lot. This electric car was parked next to Curt's car.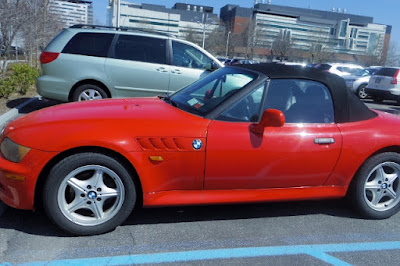 I thought that this car looked really cool… and probably super expensive!
We ate lunch at Ulrich's Tavern in downtown Buffalo. Ulrich's Tavern has a long history, dating back to 1868, when Frederick Schreirer, a young German immigrant opened a grocery-saloon at the corner of Ellicott and Virginia streets. The area was where many German immigrants made their home. More people spoke German than English in that downtown neighborhood.
During the next 35 years, the tavern was sold six times. There were different types of businesses at the site, even a few breweries. In 1906, it was purchased by a man named Michael Ulrich, who gave the tavern its name.
During Prohibition, liquor was produced there illegally.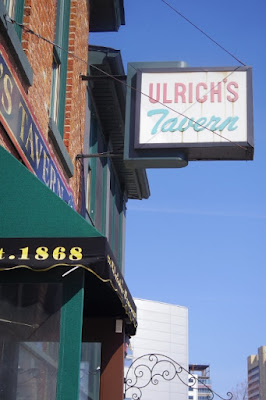 In the past, I've gone to Ulrich's to eat delicious German food.
Mmmm, potato pancakes.
The second part of the road trip was a visit to the Pierce Arrow museum. This car was sitting in the parking lot.
Here is a closeup view of the grill of a really interesting old car.
Grand Island Historical Society people wait to go inside for the adventure.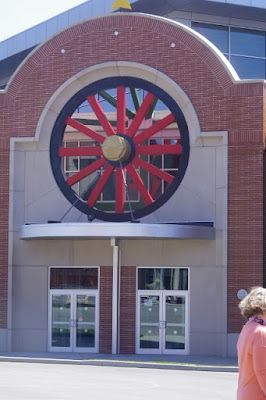 This is the museum, with that huge wheel pattern above the doors.
Here is a very unusual car horn. When the car horn sounds, the snake's mouth actually moves.
Pierce Arrow, a car manufacturing company located in Buffalo, actually had its own marching band.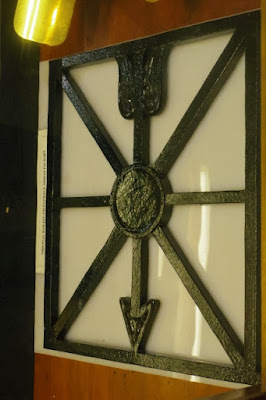 Baseball team, too.
This is how people might have dressed in the heyday of the Pierce-Arrow vehicles, from about 1901 until 1938.
Some of the vehicles really did look like "horseless carriages."
This is part of the gas station that was designed by Frank Lloyd Wright. It was supposed to be built in Buffalo as a prototype for many such gas stations throughout the United States. That gas station was never built. The only gas station of its type to be built was built in Minnesota. It is still a functional gas station.
People donate old cars to the museum. There have been many donations, and the museum is in the process of expanding.
I found this to be an interesting and colorful car design.
This is the remains of a car that was in the middle of some sort of gun battle.
Of course, cars need gasoline. Here are various styles of gas pumps.
Mmmm… gas. Some of the cars were serious gas guzzlers.
This is another view of the Frank Lloyd Wright gas station.
This driver looked more like a pilot, in his cockpit and wearing a pilot's hat and goggles.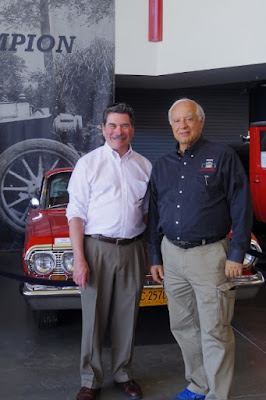 Curt Nestark on the left with the owner of the museum, Jim Sandoro.
This is a very large car grill.
This looks like a 1920s flapper costume.
Car… expensive and very shiny!!!
Very detailed model of a Pierce Arrow vehicle.
The table is set. In fact, at the museum, there is space for hundred of people to eat at the events that are scheduled there. Last week, Hillary Clinton had a campaign stop there.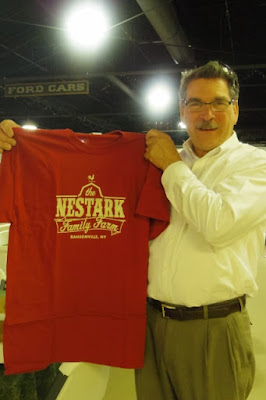 Curt celebrated his birthday at the Pierce-Arrow museum.
Display of car toys.
On Saturday, I was out walking in Grand Island.
The daffodils are blooming.
miniature daffodils.
I went to a house on East River Road. The land where the house now sits used to be the location of an amusement park called "Electric Beach" and a brewery. The owners have found all sorts of stuff that was left from those old days. This is one of the underwater pilings. The dock that is now across the street from the house is half of its original width.
Early in the 20th century, there were a number of places in Grand Island where Buffalo people would go to enjoy their summers. There were hotels, amusement parks, and beaches. There were private clubs for wealthy people. These included the Oakfield Club, the Falconwood Club, and others.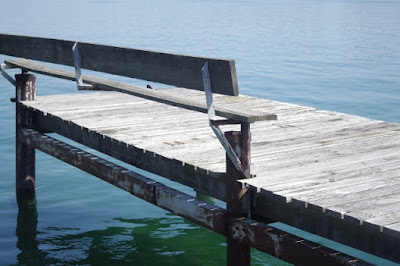 Next week: Beaver Island State Park, the New York State presidential primary, and more.